[content_slider]
[content_slide]
[/content_slide]
[content_slide]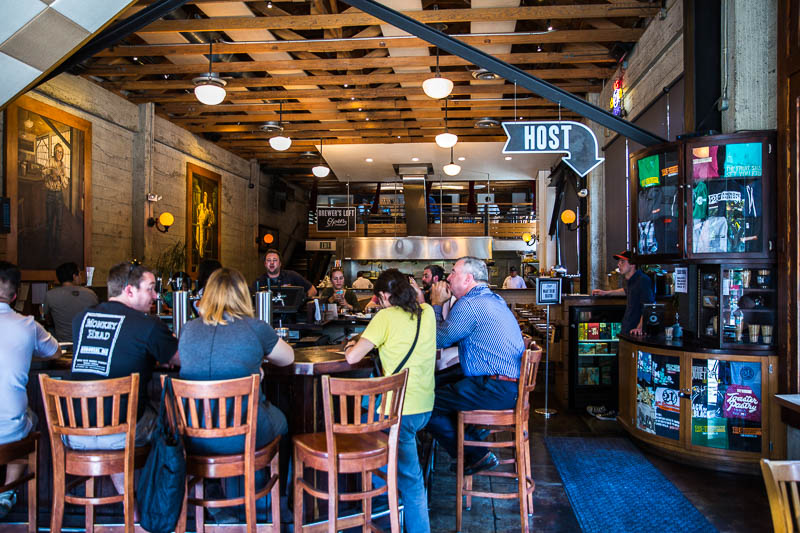 [/content_slide]
[content_slide]
[/content_slide]
[content_slide]
[/content_slide]
[/content_slider]
SAN FRANCISCO | 21st Amendment Brewery might have stepped things by several notches with the opening of their San Leandro brewery in 2015, but the original brewery and restaurant which opened in 2000 in South Park is still going strong and a great place to visit. It's a large, airy space with seating and tables over multiple levels, which is good as it can get quite busy during peak times.
The name of the brewery comes from the 21st Amendment to the United States Constitution repealed the 18th Amendment, which had mandated nationwide Prohibition on alcohol, so it's an appropriate name for a brewery indeed. There's a full lunch and dinner menu here, and a brunch menu on weekends. Food is bar classics like wings, nachos, burgers and sandwiches, pizza, and salads.
Beer ranges from the accessible to the more challenging, with 10 rotating caps and a selection of cans in the fridges. We like the Hell or High Watermelon, a refreshing summer seasonal 4.9% wheat beer brewed with real watermelon, and the Brew Free! Or Die, a 7% West Coast IPA with a solid malt backbone supporting the firm bitterness. If you want to try a few different beers, tasting paddles are available.
The popular brewpub is located just a stone's throw from AT&T Park, home of the San Francisco Giants, so it's a great spot for a pre or post game drink, although it can (obviously) get quite busy then.
21st Amendment Brewery
563 2nd Street
San Francisco
California 94107
United States
Telephone: 415 369 0900
E-mail: [email protected]
Website: http://21st-amendment.com/
Open
Mon – Sat: 11:30am to 12:00am
Sun: 10:00am to 12:00am