[content_slider]
[content_slide]
[/content_slide]
[content_slide]
[/content_slide]
[content_slide]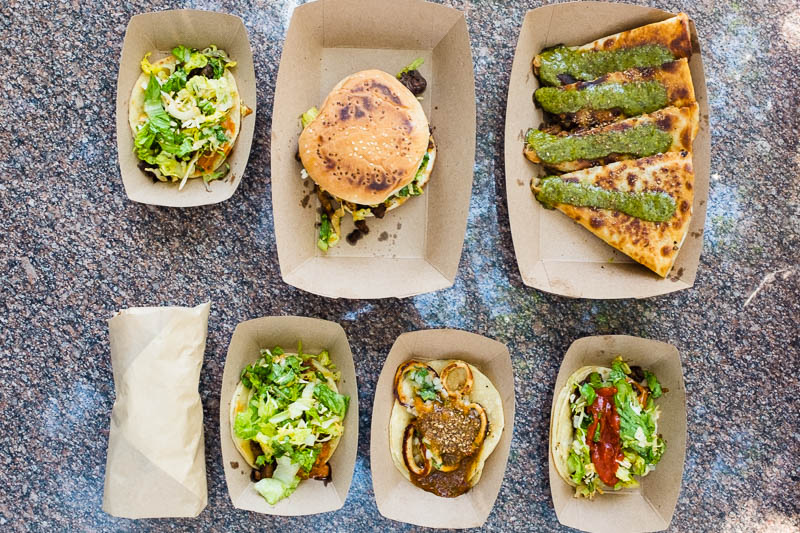 [/content_slide]
[content_slide]
[/content_slide]
[/content_slider]
LOS ANGELES | Kogi Korean BBQ Taco Truck is a place that requires a different approach when visiting it for the first time. It opened in 2009, and is considered the originator of the modern "gourmet" form of food truck, one that serves food you'd normally only find in a bricks and mortar venue. It doesn't seem like much today, but in 2009 it was a game changer. The idea came from Filipino-American Mark Manguera, who married into a Korean family and decided to combine Mexican and Korean food. Along with Caroline Shi and Roy Choi, the van started operating selling a small selection of Korean tacos.
Today there's not just one truck but four, as well as two brick and mortar taquerias. The food on offer is a combination of what was offered originally, along with a few special items that found their way on the menu proper, and various daily specials. The short rib taco is a must try item, offering thick pieces of charred beef short rib slow stewed in a sweet tangy Korean BBQ sauce, topped with tangy lettuce. It's delicious, with the tang of the chopped chili-soy vinaigrette cutting through the richness of the short rib. The Blackjack Quesedilla, featuring a blend of spicy pork, cheddar and Jack cheeses, and caramelised onions inside a crispy tortilla topped with citrus-backed jalapeño salsa verde is a thing of beauty. The Pacman Burger, which crams all three meats (short rib, chicken, pork), sesame mayo, salad, chicharrones, and Jack and cheddar cheeses is an interesting experiment, but loses the balance that the other dishes have. Individually, Choi's creations are amazing, but combined crammed in between two burger buns, not so much.
Kogi might not be new anymore, but it's still fantastic, and people still line up for the food. It's the perfect example of what makes eating in LA great, relying on the familiarity people have with the flavours of the ethically diverse backbone of the city to create food that's interesting and tasty.
Check the Kogi website for the weekly schedule truck locations and times.
Kogi Korean BBQ Taco Truck
Location varies. Check the Kogi website for the weekly schedule.
Telephone: 323 315 0253
E-mail: n/a
Website: http://kogibbq.com/
Open
Hours vary. Check the Kogi website for the weekly schedule.