[content_slider]
[content_slide]
[/content_slide]
[content_slide]
[/content_slide]
[content_slide]
[/content_slide]
[content_slide]
[/content_slide]
[content_slide]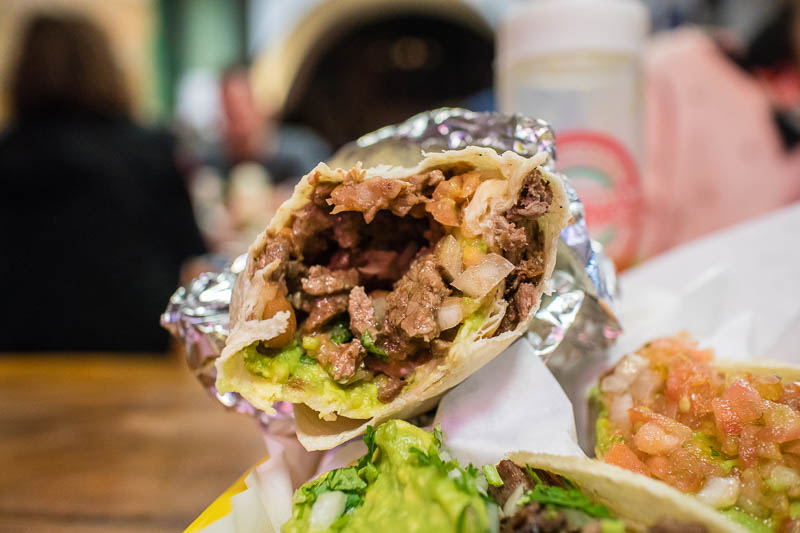 [/content_slide]
[content_slide]
[/content_slide]
[/content_slider]
SAN FRANCISCO | La Taqueria is a Mission taqueria owned and operated by Miguel Jara since opening in 1973, and to this day has a constant stream of locals pouring through its doors for some of the tastiest Mexican food in town including what some consider to be the best burrito in San Francisco, if not the entire US.
The San Francisco burrito (or Mission burrito) originated in the Mission district in the 1960s and is distinguished from other burritos by its large size, inclusion of extra rice and other ingredients, and use of a flour tortilla, primarily to aid structural integrity. Where La Taqueria's burrito differs from most is that there's no rice. Why? From day one, Jara has always thought that rice detracts from the flavours of his grilled meats, so leaves it out. Simple.
We like rice in our burritos, but can't argue the fact that the rice-less burritos at La Taqueria are fantastic. There's a generous amount of ingredients in just the right proportions and all of the ingredients are high quality. Beef (carne asada) is the most popular filling, and always a reliable option, but our favourite is carnitas, tender chunks of tender slow cooked pork – think pulled pork. Finished off with cheese, guacamole, pinto beans, fresh salsa, and homemade hot sauce, the La Taqueria burrito is fantastic any time of day. As far as requests go, staff are pretty happy to give you any combination of meats and topping that you want.
Insider tip – ask for your burrito "El Dorado-style" and it'll be thrown on the grill until the outside is golden brown and the cheese on the inside has melted. And of course if you don't want a burrito there's also tacos, plates, quesadillas and the like to keep you satisfied.
La Taqueria
2889 Mission Street
San Francisco
California 94110
United States
Telephone: 415 285 7117
E-mail: n/a
Website
Open
Tue – Sat: 11:00am to 9:00pm
Sun: 11:00am to 8:00pm