[content_slider]
[content_slide]
[/content_slide]
[content_slide]
[/content_slide]
[content_slide]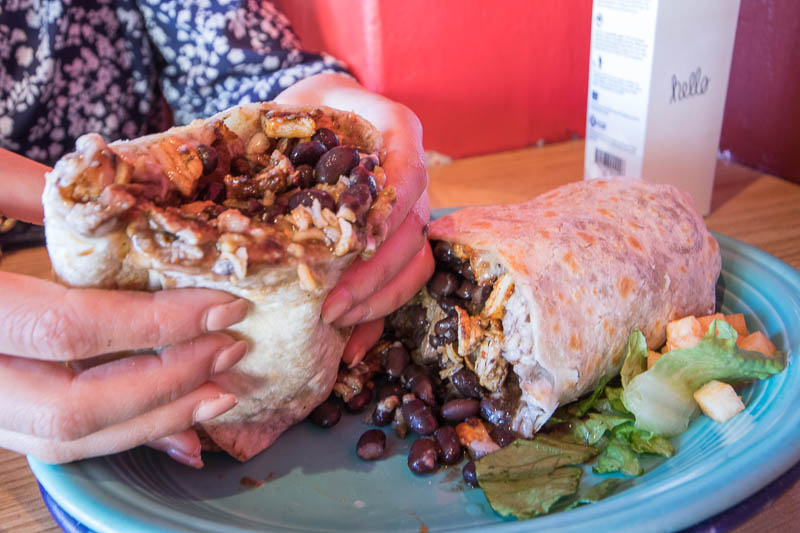 [/content_slide]
[content_slide]
[/content_slide]
[content_slide]
[/content_slide]
[content_slide]
[/content_slide]
[/content_slider]
SAN FRANCISCO | Papalote Mexican Grill is a taqueria in San Francisco's Mission district that's known for their tasty San Francisco burritos and roasted salsa. It's a casual place, inspired by owners and brothers Miguel and Victor Escobedo's childhood memories of sunny Sunday afternoons spent with family in Chapultpec, Mexico City, cooking and enjoying food and good times. Abstract art hangs from the colourful walls while traditional Mexican papalotes (kites) hang from the ceiling. Music is a mixture of old school hip-hop and Latin tunes.
The San Francisco burrito (or Mission burrito) originated in the Mission district in the 1960s and is distinguished from other burritos by its large size, inclusion of extra rice and other ingredients, and use of a flour tortilla, primarily to aid structural integrity.
Papalote appears on many lists when you search for the best San Francisco burrito and for good reason. The quality of the ingredients used is top notch, the burritos are lighter and fresher than a lot of the competition, and the balance of flavours is spot on. The secret ingredient, Papalote's Roasted Tomato Salsa, is unlike any salsa we've had before and is one of the things that really makes the burritos here next level. It's got just the right balance of roasted, smokey and spicy flavours, and you can even buy it in a jar to take home.
The signature burrito, the "Triple Threat", is fantastic. It contains achiote-marinated chicken, smoky prawns, and tangy carne asada and is packed with rice, beans, and pico de gallo. Sour cream, cheese, and guacamole are optional, but we always say yes to the additions. Do be warned though – the Triple Threat is easily big enough to share between two, even three people depending on how hungry you are. If you're dining solo we'd recommend going for a single meat option.
For those who don't want a burrito, there's lots of other stuff on the menu too – tacos, quesadillas, nachos, mole and more – all quality. In particular make sure you try the prawn tacos, grilled with lime juice and perfectly charred.
Papalote Mexican Grill
3409 24th Street
San Francisco
California 94110
United States
Telephone: 415 970 8815
E-mail: n/a
Website
Open
Sun: 11:00am to 9:00pm
Mon – Sat: 11:00am to 10:00pm