[content_slider]
[content_slide]
[/content_slide]
[content_slide]
[/content_slide]
[content_slide]
[/content_slide]
[content_slide]
[/content_slide]
[content_slide]
[/content_slide]
[content_slide]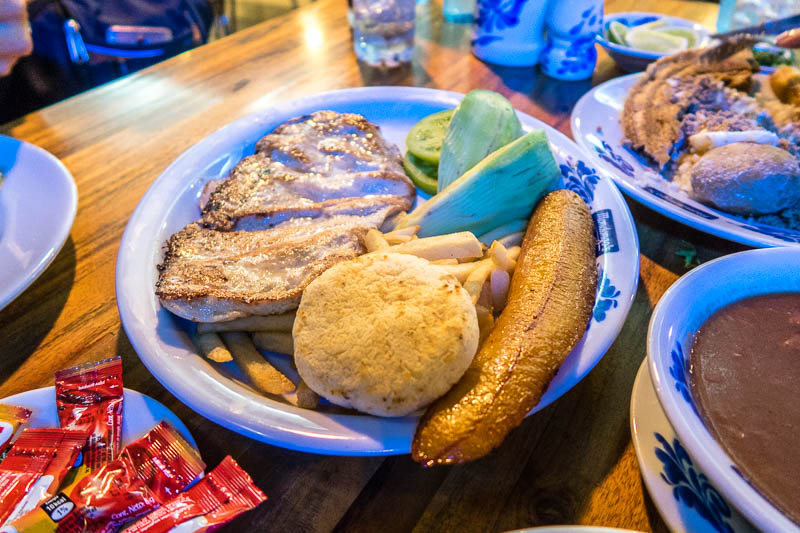 [/content_slide]
[content_slide]
[/content_slide]
[/content_slider]
MEDELLIN | Restaurante Mondongo's is a popular spot with two locations in Medellin (and one in Miami) that's famous for its generous, well priced servings of traditional Colombian food. The original opened in 1976 with the aim of bringing families together around the typical paisa dish of Mondongo, a pork, tripe, and chorizo soup.
The space is large and no-nonsense. White walls, tiled floors, and lots of simple tables and chairs. It opens up to a spacious patio section at the front, with a lot more seating.
The mondongo here is served with avocado, fried plantain, lemon and arepas, and is delicious. Other dishes on the menu include things like grilled chicken, fish, and steak, and sides like fries, beans, pork rind, and rice. It's all very simple traditional stuff. Along with the must order mondongo, we also highly recommend the chicken in mushrooms. It's a flattened and grilled chicken breast covered in an extremely tasty mushroom sauce with avocado, fried plantain, green tomatoes, fries, and an arepa.
There's a small selection of desserts like tiramisu and dulce de brevas with papaya. For drinks its juices, soft drinks, beer, and sangria.
Mondongo's place gets very busy on Sundays – for the most lively experience it's the best time to visit but you will have to wait for a table, a mid week dinner will generally be quieter and you won't have to wait. Either way you'll enjoy a delicious meal.
Restaurante Mondongo's
Calle 10 #38-38
Medellín
Antioquia
Colombia
Telephone: +57 4 3122346
E-mail: n/a
Website
Open
Mon – Wed: 11:30am to 9:30pm
Thu – Sat: 11:30am to 10:00pm
Sun: 11:00am to 8:00pm