SINGAPORE | Changi Village. It's a part of Singapore that visitors don't know too much about, including the most seasoned of Singapore travellers. Despite having been to Singapore so many times that I've lost count, I too knew nothing about Changi Village until my most recent visit.
Changi Village is located on the North Eastern tip of Singapore, about a 15 minute taxi ride from Changi Airport and a half hour drive away from the city centre. The City Lane was invited to Singapore by Far East Hospitality Group ("FEH"). These things can sometimes go astray, and it's not uncommon to hear stories about the benefits of free flights and accommodation being offset by very strict guidelines around what attendees can and cannot do, and "must" write about.
In this case, the guidelines were simple. Stay at 2 FEH hotels and write about the hotels and things that visitors can do around the hotels. We were provided with a list of suggested activities, about half of which did not quite fit The City Lane. We told FEH that if we were going to do this, we wanted to do things that we liked, that we knew our readers would like – the kind of stuff we'd do if we were organising our own holiday. In the case of The City Lane this of course mostly revolves around eating and drinking like a local and discovering the "real" side of the cities that we visit. FEH said "not a problem" and just like that, plenty of free time to do whatever we wanted (at our own expense) was accorded to The City Lane. And so it was that I found myself, a month later, in Singapore, checking into the Village Hotel Changi.
The hotel itself ticked all of the boxes that I usually look for, apart from the obvious one of it not being centrally located. Check in was a breeze – I arrived in the wee hours of the morning, well before check in opened and was greeted by a very friendly staff member who stored my bags and provided me with temporary WiFi access and access to the hotel's Club Lounge. This allowed me to get some work done, grab some breakfast and a much needed coffee before heading out to explore Singapore.
The hotel is clean, the rooms are of a reasonable size and the beds and pillows are really comfy – a good night's sleep was not a problem. Something else that really stuck out to me was the positioning of the power outlets in the rooms. In many hotels, power outlets are minimal and inconveniently located which isn't ideal for those of use who like to use electronic devices while in bed. The Village Hotel Changi had power outlets in convenient locations around the room, which was something that I really appreciated.
In terms of amenities, the hotel has all the things that you'd expect. Buffet breakfast, a diverse range of restaurants, gym, multiple swimming pools and a Jacuzzi. One thing that really appealed was the rooftop infinity pool, with its expansive views of the Changi coastline and planes flying in to Changi Airport – a quite different experience compared to the more centrally located hotels.
If swimming isn't your thing, you can wind down at Stella Wellness Centre day spa or in the aforementioned Hotel Club Lounge which provides visitors with a quiet space in which to enjoy some food and refreshments (including cocktails) and either relax or get some work done.
The first day I had to myself before meeting up with the rest of the small group (there were only 4 of us) on Saturday morning. The planned activity for the day was a morning stroll around the nearby island of Pulau Ubin, which literally translates as "Granite Island" in Malay. Arriving on Pulau Ubin the first thing that struck me was that it was a very calm, tranquil place. The spot where the boats moor is a traditional kampong (village) and we were told that this is what all of Singapore used to look like back in the day – jungle and small villages. It was a quite beautiful glimpse into the past.
What came next was something unexpected and it led to me enjoying my time on Pulau Ubin much more than I had anticipated. We were shown around the island by a guide with a keen interest in nature and proceeded to spend most of the time eating almost everything on the island. I'm not talking about cafes, restaurants, street food or hawker centers, but rather the native plants that grow on the island. Leaves, stalks, flowers and berries – you name it we ate it. I had no idea that there was going to be such a unique food angle on Pulau Ubin and I was really impressed to learn about all of the native flora, how it was used traditionally, how and if it is still used today and the general history behind island life which was of course, was life for all Singaporeans not too long ago in the overall scheme of things.
We finished our visit to Pulau Ubin with a Singaporean feast at Season Live Seafood. Unsurprisingly, seafood is the name of the game at this place and there was no shortage of food. I'm not going to tell you that this is the best meal that you can have in Singapore but if you do feel like eating on the island there's certainly nothing wrong with any of the food here, there's just better on the mainland. In fact I and one of the others in the group had a particular reason to hold back on eating too much here, as we had decided that the afternoon would be the perfect time in which to head to the street food mecca that is Geylang and eat our way through the area. Keep an eye our for The City Lane Geylang street food guide which will be posted on the website soon.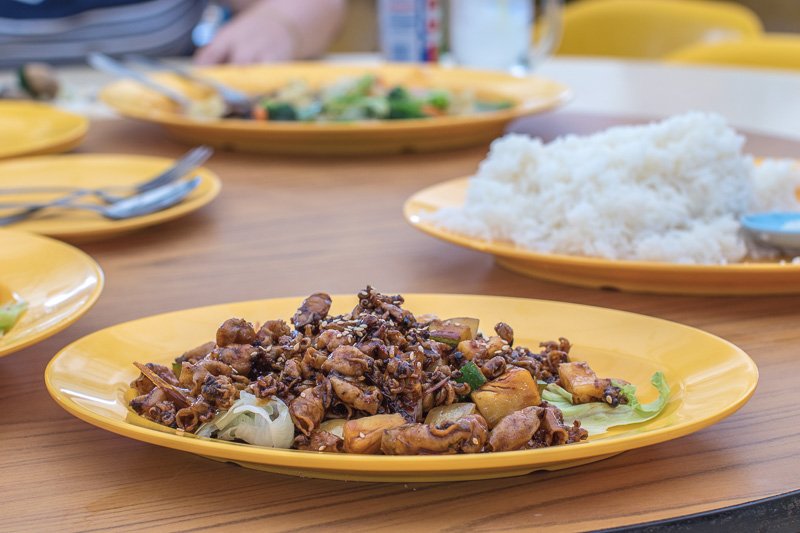 Back to Changi Village, what else is there to do? I had it on good authority from my taxi driver when returning to the hotel on Saturday night that one of the best places for Nasi Lemak could be found at the Changi Village Hawker Centre, which is only a 5 minute walk from the Village Hotel Changi. Breakfast on Sunday, sorted.
A hawker centre, for those of you who don't know, is a complex, akin to a small open-air mall of sorts, that contains a wide variety of stalls selling all kinds of street food. Singapore used to have street food, but when the government decided to "clean up" and modernise Singapore back in the 1960s, these hawker stalls were where all the street food vendors were moved to.
Nasi Lemak is a dish consisting of fragrant coconut pandan rice. It's served with sambal, cucumber, fried anchovies, fried egg (sometimes hard boiled) and other accompanyments depending on the establishment. Ours came with ayam goreng (fried chicken) and otak otak, a grilled, spiced fish cake. It was as delicious as it sounds.
We also tried chai tow kway (fried carrot cake) which doesn't actually contain carrot, but rather is a cubed radish cake , which is then stir-fried with eggs, preserved radish, and other seasonings. To wash it all down we had some traditional sweet kopi (coffee). For lovers of good food there's not only the Changi Village Hawker Centre, but also the café strip across the road which is also very popular with locals, and vibrant with loads of people well into the early hours of the morning.
So then, who is the Village Hotel Changi for? The first time visitor to Singapore? No. It's quite simply too far out from the city centre (a taxi will cost you around SGD$30) and all the things that you want to see as a first time visitor are unsurprisingly closer to the city centre. The Village Hotel Albert Court, located in Little India, which I will write about soon, is the better hotel for first time visitors. The Village Hotel Changi is for those people who have been to Singapore before and are looking for something different, or for those who are stopping over and want to stay in a relaxed area that's close to the airport that lets them chill out, be it in the hotel or on Pulau Ubin, and still get in some great hawker food before flying off to their final destination. If you're on a business stopover and need to be productive, you should definitely consider the Village Hotel Changi.
I'll admit that if FEH hadn't told me that I'd be staying out here I wouldn't have given the area any though but having spent a night there I'm glad got to see a part of Singapore that was new to me.