The food in Split is amazing. Mediterranean dishes, with a focus on fresh, seasonal, local ingredients is what you can expect when you visit.
Throughout my time in Split, the one common theme was on simplicity, and letting the ingredients really shine through. The only seasoning in many instances was extra virgin olive oil and salt.
There is a lot more to food in Croatia than what I will be covering here today. This post is all about the simple, fresh stuff, and a few tips on where to eat in Split.
Of all the places that my fiancée and I ate at, there was one that really stood out – so much in fact that we had 3 meals there.
Konoba (which means restaurant) Matejuska is a little hole in the wall seafood restaurant with a few tables and no menu. Each morning whatever is fresh at the market is selected and the waiter brings out a plate of fresh, raw seafood, containing the options for that day.
On our first visit we chose a serve of the tuna fillet a whole hake steak and a third fish I can not recollect the name of. A traditional salad and fresh bread are provided as standard.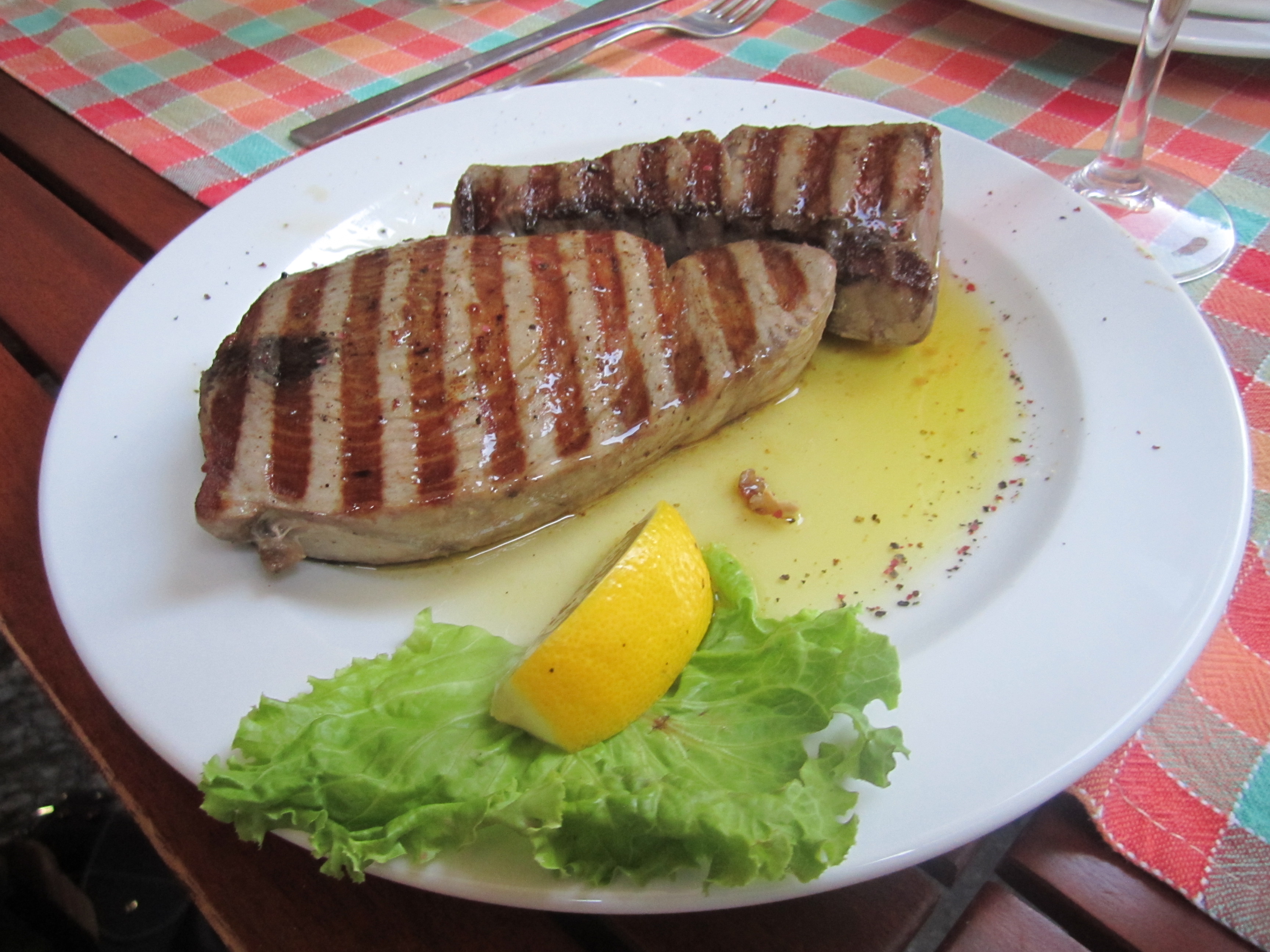 On the second night we tried the sea bass. We also asked if there was squid available. Unfortunately, there was no none but the chef made us a black ink cuttlefish risotto which was sublime.
On the third night we got fried whitebait and small prawns which you could eat whole. The serving of it in the brown paper was a neat touch. We also had scampi, which were amazing.
There was still no squid on the menu on this night. The waiter knew that we were coming back and told us that they had gone to the market that morning but all the squid looked like it had been caught previously to that day, and that they would not serve anything that they could guarantee was caught that morning.
The meals were all very inexpensive, especially considering the quality of the food. One of the best restaurants in Split in my opinion and highly recommended. Here is a link to their website, which is in English.
Still on the topic of seafood, these guys would set up just outside of the fish market in the city centre and start grilling squid and sardines late in the afternoon. Served on bread, with a drizzle of olive oil and a sprinkle of salt, they were the perfect late afternoon snack.
You can't really tell in the photo below, but the guy on the grill may or may not have been Steve Buscemi. The resemblance was uncanny.
Split's fish market is open from 8am – 10am and is where all the fisherman come each morning to display the day's catch. It's gets quite loud and hectic inside, and the atmosphere is great. It's worth visiting just to observe the daily ritual. These photos were taken as the market was closing, hence why it doesn't look so busy.
Beyond seafood, Split also has a great daily market with all kinds of produce and other bits and pieces for sale. The produce here was really good and it's not just a tourist market. It was full of locals doing their daily shopping.
The daily market is located in the city centre near the ferry wharf and bus terminal.
Do you have any recommendations of places to eat in Split, or any dining tales to share? If so I'd love to hear about them below in the comments section.