LOS ANGELES | Visiting "The Hood", and Compton and South Central (called South Los Angeles today) in particular, is one of the many reasons that Los Angeles was on my list of cities to travel to for a long time. I grew up listening to hip-hop, and coming of age in the 1990s meant that there was a lot of West Coast hip-hop involved.
Hodari Sababu, stepfather of rapper The Game, runs a company called LA Hood Life Tours, which gives people the opportunity to drive through the hood with a local, learn about the area, and see some of the places referenced in all of those West Coast hip-hop songs, and of course, the movie Straight Outta Compton. Hodari runs the tours with a few friends of his – I, along with a teenage hip-hop fan and his mum from Boston, were driven around by Hodari's friend James, a Compton born and bred boxer.
In the words of Hodari, when asked by Hollywood Reporter why he started these tours:
I thought to myself, wouldn't it be an excellent idea to actually give them [the rich white audience at his son's concerts] the opportunity to actually go to some of these places that the rappers are talking about? Not only go there but be safe and be able to jump out and take pictures in Compton and South Central that they can take back home with them?
Coming up with an angle for this article was quite difficult. It's that same feeling that any white hip-hop fan has when rapping along to their favourite tunes and the "N" word pops up. Despite the fact that you're in no way racist and that it sounds wrong if you don't say it and censor yourself, bottom line is you can't say it, and you don't. I have a full awareness of the pro and cons of "ghetto/slum tourism" and appreciate the fact in being able to visit the hood, take a look around, and leave, I was in a particular position of privilege. For the people who live in the hood, this is life.
At times as we stopped the car, got out, took a few photos and hopped back inside, it did feel like we were being disrespectful to the people who live here. However, it's not like I could safely get a bus to the area and stroll around by myself. When I raised the topic with James, he responded that it was good that people were starting to be interested in a part of Los Angeles that had long been neglected by just about everyone. James said there are generally 2 kinds of people who come on these tours – those who think that the "thug life" is glamorous and those who genuinely want to learn more about the hood. In either case, the aim is the same – to show people the hood as the guide knows it, and teach everyone on the tour something new.
The first stop on the tour (which doesn't always take the same route or take in the same sights) was Baldwin Hills which is in South Central and is where you live if you're in the hood and have money according to James. There are some nice big homes up here and the view is fantastic – nothing like the stereotypical image of the hood.
There's a lot of street art in the hood. Some of it is politically charged, some of it trying to convey another message of some sort, and some of it just art.
We were told many stories about the history of the various parts of the hood that we visited, and what various areas were known for. Figueroa Street, for example, is known for its "ho-stroll". It's where you go for prostitution and where Hodari used to sell drugs. James wasn't just talking things up either to make the area seem more "edgy". We saw numerous prostitutes and pimps walking down the street as we drove through, and supposedly it's a different world at night.
James showed us around a variety of landmarks and historically important spots. The spot below is one of the places where 2Pac used to hang out, chill and practice his raps – Los Angeles based street artist Jonas Never painted it a few years ago.
The intersection of Florence and Normandie Avenues in South Central is where the 1992 Los Angeles riots started. They broke out outside Tom's Liquor after news broke that the officers accused of beating Rodney King were acquitted.
Tam's Burgers is the Compton takeaway spot where Suge Knight was charged with murder last year after allegedly driving over Terry Carter, a former business partner of Ice Cube, after being barred by Dr. Dre's security while Dre was filming a commercial nearby for Straight Outta Compton.
We also drove past the houses where many of Compton's rappers grew up – Easy-E, Dr. Dre and Kendrick Lamar to name a few.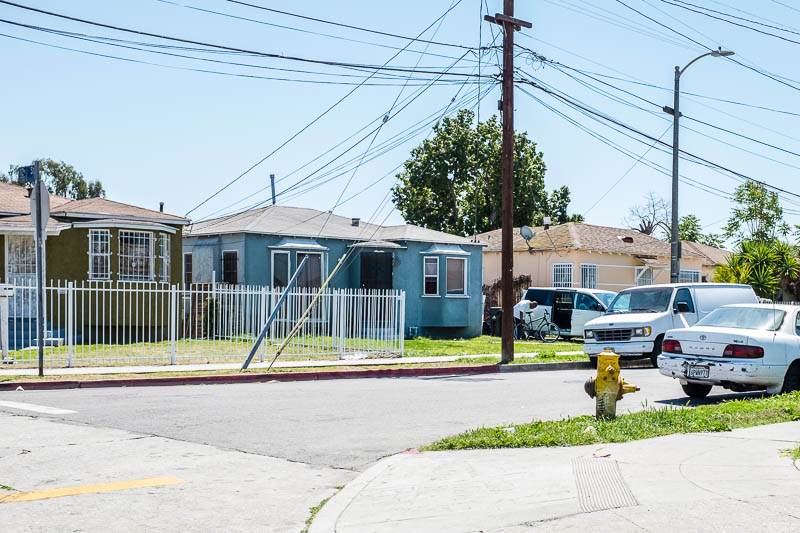 We passed several "trap houses" while driving through the hood. A trap house is where drugs are sold/made.
The Watts Towers ("Nuestro Pueblo"), located in Watts, are 17 interconnected sculptural structures that were made by local resident Sabato ("Simon") Rodia, an Italian immigrant construction worker and tile mason, between 1921 to 1954. They are designated as a National Historic Landmark and a California Historical Landmark. Much of the towers are made from scrap metal and found materials like, soft drink bottles, seashells, stones and mirrors. It's a fascinating thing to see, and amazing to think that it was dreamed up and constructed by one individual.
Street art near the highschool that Dr. Dre and Kendrick Lamar attended.
The Pirus are a street gang who, along with the Brims gang, form the "Bloods" alliance. The name comes from Piru street. I'd heard of Crips and Bloods before, but even though I knew the stories, it's different when you can actually put a place to all of the things you've heard. These gangs still exist, and James pointed out various gang members as we drove around during the day, identifiable by their colours. He told us of people he knew who had been killed simply for wearing the wrong colour.
Something I found interesting was reading up on the demographic changes that have occurred in Compton over the years. Before the 1950s, Compton was a predominantly white area (former President George H. W. Bush lived in Compton at one stage), it became a predominantly black area from the 1950s onwards and today it's a predominantly Latino neighbourhood (65% Latino as at the 2010 US Census).
This change in racial makeup has also seen a shift in gang power. James told us how many of the former Bloods and Crips strongholds have since given way to Latino gangs such as the notoriously violent MS-13.
It's easy to talk about gangs and the "thug life", but something I found interesting about the hood is just how many contradictions there are. You see gang members, prostitutes and crack addicts on one street, and just around the corner are families enjoying themselves, neighbours sharing food at a front yard cookouts, and children playing at the park. I can only imagine how difficult it must be to get out of the hood if you're born in it. I was surprised to see vacant lots that James said used to house structures before the riots. They were destroyed during the riots and over 20 years later, no rejuvenation has taken place. Poverty in Compton currently sits at 24%, well above the California average of 16%. Racial and systemic discrimination limits your opportunities and there's always the temptation to make "easy" money by dealing drugs and the like. I've never been more thankful for my white, middle class suburban upbringing.
The Compton courthouse has a jail directly below it. Efficient, I suppose, though it does beg the question – guilty until proven innocent?
Old sign at the back of the famous "Mom's Burgers". Unfortunately it was closed when we went past. Mom's is popular not just for its burgers, but its friendly "backyard" vibe.
The infamous Greenleaf Boulevard, just around the corner from where Dr. Dre grew up. From his 1993 song "Let Me Ride"
Bodies bein' found on Greenleaf
With their fuckin' heads cut off
Greenleaf was infamous for being where people would dispose of murdered bodies, but in recent years rejuvenation attempts have occurred to clean up the area. One of the most surprising things I saw driving down Greenleaf, was a man riding his horse down the street, although it turns out it's not as uncommon as you might think. Nearby is Richland Farms, which is home to a ranch and several horses. In fact in the 1950s Los Angeles was the biggest agricultural county in the US, and places like Richland Farms weren't uncommon.
The back streets of Compton, where you can buy ice-cream from an ice-cream truck and drugs from the houses to the side.
The Robert L. Adams Mortuary, famous for being the only drive-through funeral home in California, and one of only three in the US. The mortuary became popular with gang members in the 1980s who needed a speedy and safe way to say goodbye to their friends and loved ones after a string of cemetery shootouts and features, amongst other things, bulletproof glass.
One of the questions that I've been asked is whether things on this tour are put on for tourists, with the gangster aspect being over-hyped or if it's genuine. I think it's the latter. The people who run this tour all grew up in the hood, and James was a great guide. It didn't feel like a tour, rather it felt like what it literally was – someone who used to live in the area driving us around and sharing stories about the hood and giving us his personal perspective. A portion of all profits made from the tours also go towards helping out those in need in the hood – the folks at LA Hood Tours actually care about giving back to the community.
Say what you like about this kind of tourism but personally, I've always wanted to visit the hood, to see the areas that my favourite hip-hop artists rap about, and left with a much better idea of what the hood is actually like than when I arrived. I will never know what it's like to live here, and don't claim to, I know I've only seen a fraction of what the hood is all about, but I certainly learned some things. It was nice to see the positive things in the hood – the families, the playgrounds, the community spirit, but it was also disheartening to see and hear that a lot of the unsavoury things are just as bad as they're made out to be.
I asked James if he thought things would ever change and he stated that while things are better today than they were in the 1980s and 1990s, he doesn't see real change happening any time soon. He just sighed and shrugged and "it's the hood".