[content_slider]
[content_slide]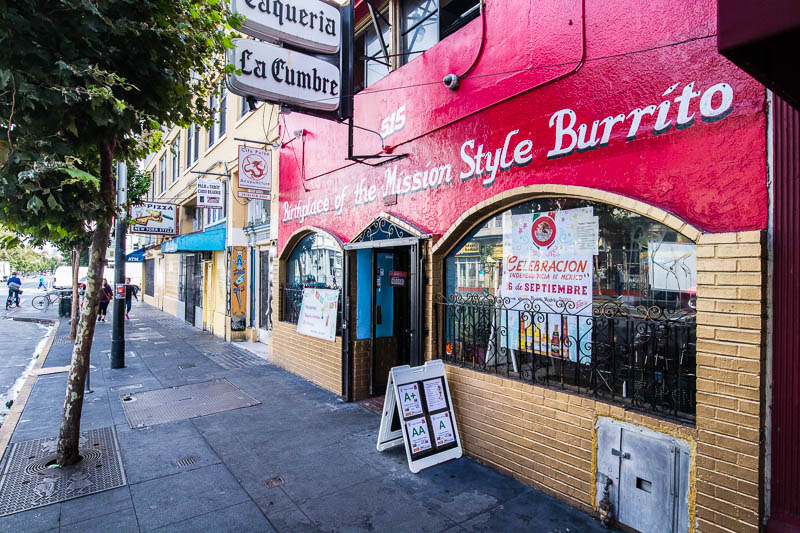 [/content_slide]
[/content_slider]
SAN FRANCISCO | Taqueria La Cumbre is famous for being the birthplace of the San Francisco burrito. There are different stories about the origin of the San Francisco burrito, but the Taqueria La Cumbre origin story seems to be the most widely accepted. Taqueria La Cumbre opened in 1972, but brothers Raul and Michaela Duran sold burritos from their meat market on the same site before this. They date the birth of the San Francisco burrito to 29 September 1969.
The San Francisco burrito (or Mission burrito) originated in the Mission district in the 1960s and is distinguished from other burritos by its large size, inclusion of extra rice and other ingredients, and use of a flour tortilla, primarily to aid structural integrity.
Everything is made fresh to order, and quality ingredients and produce along with attention to detail mean that a burrito from Taqueria La Cumbre is a good choice no matter what time of day you visit. Meat is purchased from local markets daily and all beef is grass fed, no hormones. There are lots of sizes available depending on your appetite – super, deluxe, regular, and petite, and you can pretty much mix and match any combination of ingredients that you want. For us it's the deluxe with your choice of meat (go for the beef tongue or chicken fajita meat) beans, rice, salsa, cheese, guacamole and sour cream. Just the right proportions of ingredients, not too much rich, and generous servings.
Of course there's more than just burritos on the menu, with things like tacos, quesadillas, salads, nachos, fajitas and plates also available. There are also vegetarian and vegan options available.
Taqueria La Cumbre
515 Valencia Street
San Francisco
California 94110
United States
Telephone: 415 863 8205
E-mail: [email protected]
Website
Open
Sun: 11:00am to 9:00pm
Mon – Thu: 11:00am to 10:00pm
Fri – Sat: 11:00am to 2:30am