HONG KONG | Coming from a Malaysian family, Chinese food is something that I grew up with and is a cuisine I have always eaten. As you can imagine, on my most recent trip to Hong Kong, which was kindly facilitated and sponsored by Cathay Pacific and the Hong Kong Tourism Board, I was very keen to see what the city had to offer across the full food spectrum and see if it lived up to the high standard of Chinese food in Melbourne (and in particular at my mum's house!). We had a lot of flexibility to eat where we wanted on this trip and, armed with loads of research on the best places to eat in Hong Kong, I was ready to tackle the challenge.
Mention Hong Kong food and one of the first things that comes to mind is 'yum cha' (literally meaning 'drink tea' which frankly is a little odd when you think about it) but the Hong Kong food scene is much more diverse than that and in this food guide, I'll be looking to touch on the main categories of food available. I was staying at the JW Marriott (who were one of the sponsors of my trip) which is located at Pacific Place in the Admiralty district – perfectly located between the food options in Central,Wan Chai and Causeway Bay. This is a great location particularly for first time travellers to Hong Kong due to its central location and proximity to public transport as it is right above a train station. As a result this guide will mostly focus on Hong Kong Island as that is where I spent the majority of my time, although I know for a fact that there are many amazing places to eat in Kowloon as well.
Dim Sum
What Australians refer to as 'yum cha', people in Hong Kong refer to as 'dim sum' (not to be confused with dim sims) and is a meal that consists of a number of small dishes designed for sharing that can range from dumplings to rice dishes and things even more exotic. Although this type of food is now often eaten in the mid-late morning or for lunch and is typically quite a heavy meal consisting of many plates, Chinese people would traditionally eat dim sum for breakfast and consume one or two plates accompanied by black tea to break down the fats and oils in the food.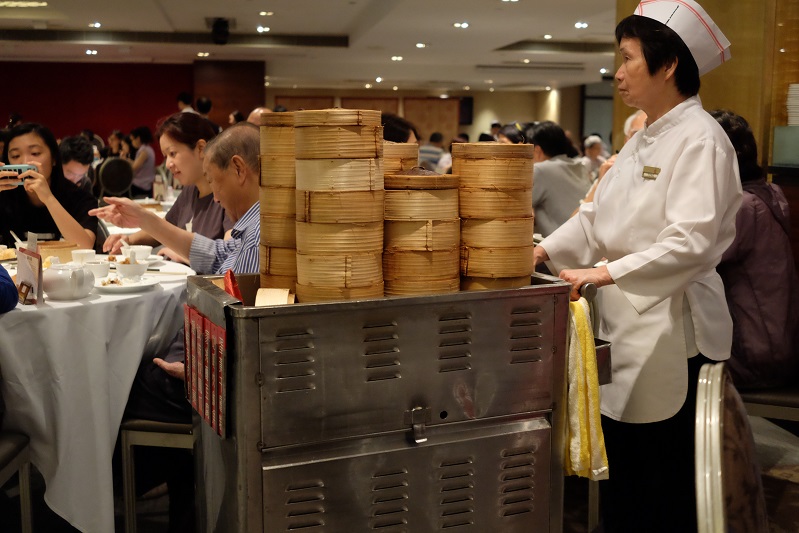 For most people dim sum is symbolised by the characteristic steamer baskets wheeled around by so called 'angry trolley aunties', which is an amusing re-purposing of what is otherwise a term of respect/endearment. While the steamer baskets remain, in Hong Kong the trend has moved towards ordering dishes via a form that is filled in by the diner and handed to the wait-staff who then arrange for the food to be delivered.  Although this is a shame in terms of lost tradition, one cannot argue that it leads to greater efficiency for everyone concerned.
If you do decide to head out for Hong Kong dim sum, the four absolute 'must haves' (in my view) are:
'Siu mai' – an open-topped dumpling, typically made with pork and prawn or shrimp with fish roe on top. This is the quintessential dim sum dish and my mother tells me that back in the day if we did not order this we weren't permitted to leave the restaurant!
'Har cau' – a closed, purse-shaped dumpling filled with prawn and often pork, with a skin made of potato and wheat starch that turns translucent when steamed. These are often amongst the most expensive dim sum on the menu because they need to be made by hand on the day they are consumed . They are considered one of the more difficult dim sum to make and I can attest to this having tried it myself at a dim sum cooking class during this trip.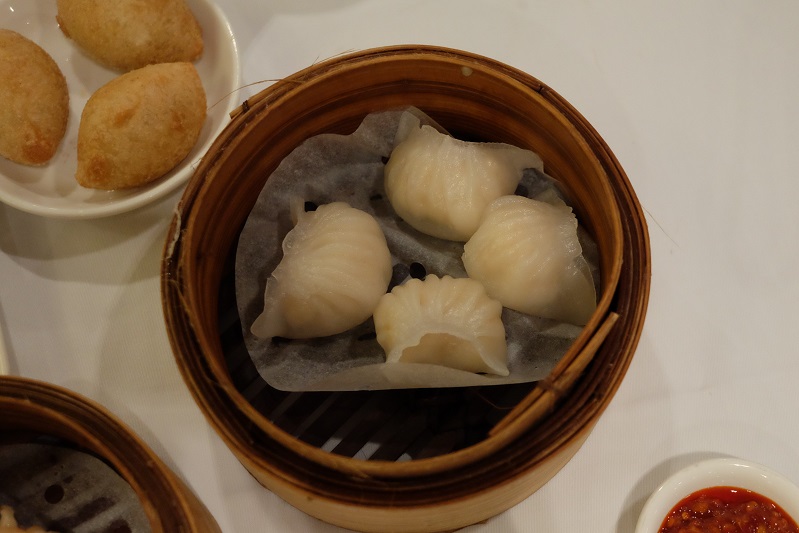 'Char siu bao' – a fluffy steamed bun filled with bbq pork and a sweet sauce. These are a favourite amongst many diners, the bun should be light and soft and the filling sweet and flavoursome – be sure to remove the rice paper on the bottom of the bun before eating…
'Dan taat' – a tart made with crumbly pastry, filled with an egg custard. These generally end the meal, are served warm so that the custard literally melts in your mouth and are not too sweet. These differ from Portuguese egg tarts in that the pastry is typically not flaky, the custard is not as creamy and the tarts themselves lack a the burnt sugar top that is characteristic of the Portuguese-style tart.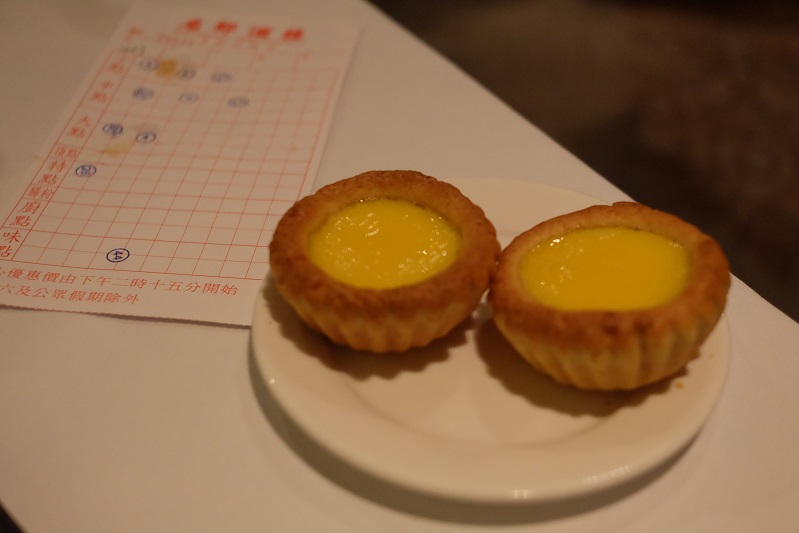 As with all Chinese food it is a case of 'the more the merrier' and you will definitely enjoy yourself more if you bring people to share the experience – the mathematicians amongst you (nerd alert) would notice from the photos above dishes at dim sum tends to have multiples of 2, 3 or 4 which means that 12 is the ideal number.
Where To Go
Dim sum restaurants in Hong Kong span the full spectrum from budget to high end. For classical trolley service it is hard to go past Metropol (where the photos above were taken), which is located in the Admiralty district of Hong Kong Island. A meal will typically run to around HKD100-150 a head.
Metropol
4/F, United Centre
95 Queensway
Hong Kong
For a cheaper meal without the trolleys, Michelin starred dim sum is available at Tim Ho Wan. There are multiple locations in Hong Kong including a number of the Kowloon side and I highly recommend that you go somewhere other than the location at IFC as the queues there can be particularly long. My entire meal that I had at the North Point branch cost HKD 75 and I was beyond full.
Tim Ho Wan
G/F, Seaview Building
2-8 Wharf Road
North Point
Hong Kong
For high-end dim sum, Mott 32 offers an excellent range (including some of the best pork buns I have ever had) in a classy setting.
Mott 32
Standard Chartered Bank Building
4-4A Des Voeux Road
Central
Hong Kong
Roast Meat
Another of the classic styles of Hong Kong food is Hong Kong-style barbecue meat, usually served with steamed rice or dry noodles. There are usually 5 types of meat available:
Barbecue pork ('char siu') – barbecued boneless pork, typically in a sweet marinade. Different cuts of pork are used but the best char siu is done with belly pork or another tender cut that ensures that the meat is juicy/tender and really absorbs the flavour of the sauce.
Roasted pork ('siu yuk') – roasted belly pork with a crispy crackling on the outside, usually cut vertically into strips consisting of alternating fat and meat. The meat isn't as tender as char siu but if done properly the meat, fat and crackling combine well, with the usual accompaniment of a soy-based gravy helping to cut through the other flavours.
Soy poached chicken ('siow kai') – not technically barbecued, this is chicken poached with a sweet soy sauce until the skin is brown. The poaching method aims to deliver meat that is still moist rather than dry, and if done right the skin is smooth and silky.
Roast duck ('siu ngapp') – whole duck roasted with a crispy skin and not too much fat. This style of duck really retains the gamey flavour with the best part being the drumstick or the thigh.
Roast goose ('siu ngo') – almost unique to Hong Kong, geese can be identified from duck when hanging in the window (see below) by a 'bump' on their heads. According to Chef Jowett Yu who I had a chat to at Ho Lee Fook (yes, that is meant to sound exactly like it does!), roast goose is one of the things that makes Hong Kong barbecue stand out as the meat is generally less fatty than in other countries.
As is the case with most food, Hong Kong barbecue can also be had in high and low-end locations. If you're looking to eat cheaply, there are numerous 'siu mei' restaurants located around Hong Kong which are easily visible from the street – often see your meal being cut up before your very eyes, as was the case with this barbecue pork.
The soy poached chicken was really soaking in the flavours at this street food stall.
If you are looking to eat in a more upmarket location, the roast meat (along with an array of other great dishes) at Ho Lee Fook is excellent. The setting is quite hip and modern and is a nice contrast from the almost stuffy feel of many old-school Cantonese restaurants. The roast goose at Ho Lee Fook was outstanding.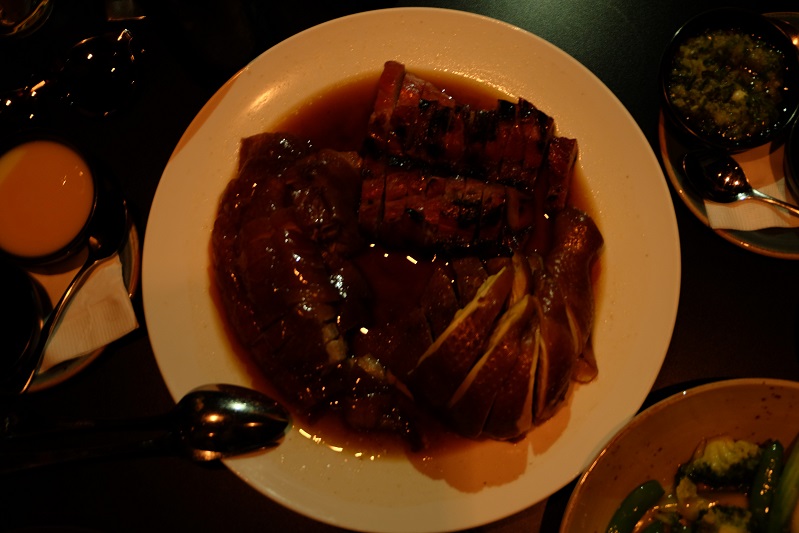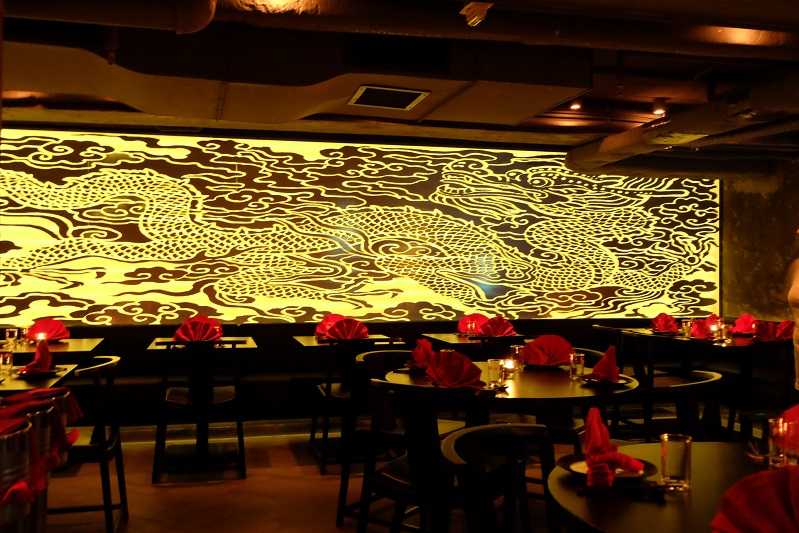 Ho Lee Fook
G/F, 1-5 Elgin Street
Central
Hong Kong
One other roast meat that is less commonly found at barbecue places, but can often be found at dim sum restaurants (the one below is from Metropol) is suckling pig ('yi ji'). This is a roasted baby pig, with a crispy skin that is thin and delicate rather than cruncy like the roast pork and differs from suckling pig that you usually find in European cuisine as the pigs served in Asia are much younger, the animals are smaller and the meat more tender. After roasting, the pig sliced into thin strips with only a little meat underneath and is served with a sweet plum or hoisin sauce that helps to offset the richness of the skin and fat. This is a delicacy that any visitor to Hong Kong should try at least once.
Street Food
Anyone who has travelled through Asia will no doubt have experienced the street food culture that is common throughout the region and Hong Kong is no different. In fact the street food scene in Hong Kong is so good that I'll be writing a separate article dedicated to it. For now though, let me cover the highlights. Oh and of course dim sum and roast meat can also be obtained from street food stalls across Hong Kong.
Cha Chaan Teng
The most common places to eat street food are either at a stall literally on the side of the street or at a 'cha chaan teng' (literally tea restaurant) which typically has just a few tables and some very simple fittings.
While in Western countries there will generally be multiple places where you could eat a particular thing, for Chinese people there is generally one place that is considered the best and no substitutes will be accepted. It's the polar opposite of the phrase "jack of all trades, master of none". As a result if you decide to visit a restaurant or cafe that is 'famous' for something be prepared to queue, although service is generally very efficient and lines tend to move quickly.
One of the most common things to eat at a cha chaan teng is a pineapple bun ('bo lo bao'). Despite the name the bun actually contains no pineapple at all (which was a relief to the non-fruit eater I was dining with) but refers to the rough texture of the top of the bun which is meant to resemble a pineapple. The bun can be had with or without a stick or butter in the middle, although to me this didn't really seem like any question at all! I had this particular one at Kam Kee which is a well known cha chaan teng in Sai Ying Pun, one of the gentrifying up and coming neighbourhoods on the West side of Hong Kong Island.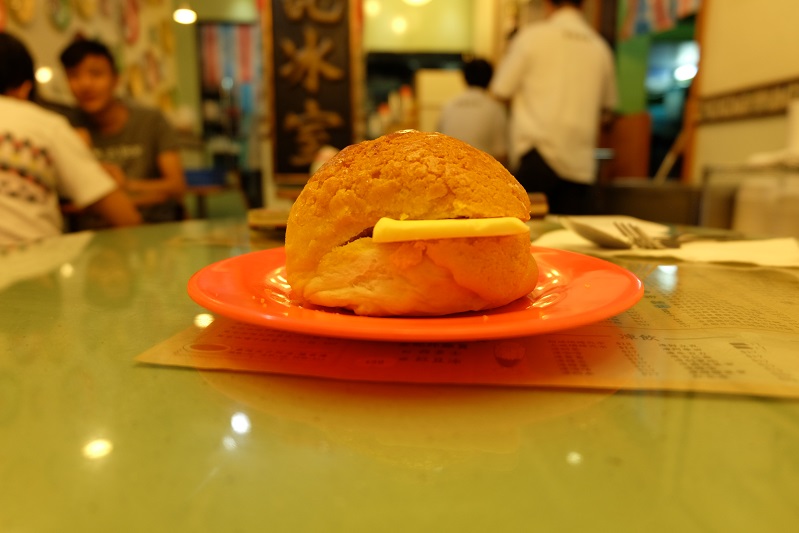 Kam Kee
G/F, 213 Des Voeux Road West
Sai Ying Pun
Hong Kong
Bakeries
Sticking with the bread theme another thing you will commonly find across Hong Kong are small bakeries which are the progenitor of the Breadtop stores that you can find in Australia. These serve an array of buns with various fillings – the bread is usually sweetened so the nutritional content is low but items like the sausage bun below make for a quick and cheap snack when you are on the go.
Soup Noodles
Another staple of the Hong Kong street food scene is soup noodles. On this particular trip I particularly enjoyed the beef noodles that I had from Kau Kee which is famous for this dish. It is usually made with parts of the cow which would not normally be used in modern Western cooking – brisket is probably the most popular with beef tendon also being quite common. When cooked correctly both are extremely tender and impart great flavour to the broth. Curry versions of beef noodles are also available for those looking for something spicy.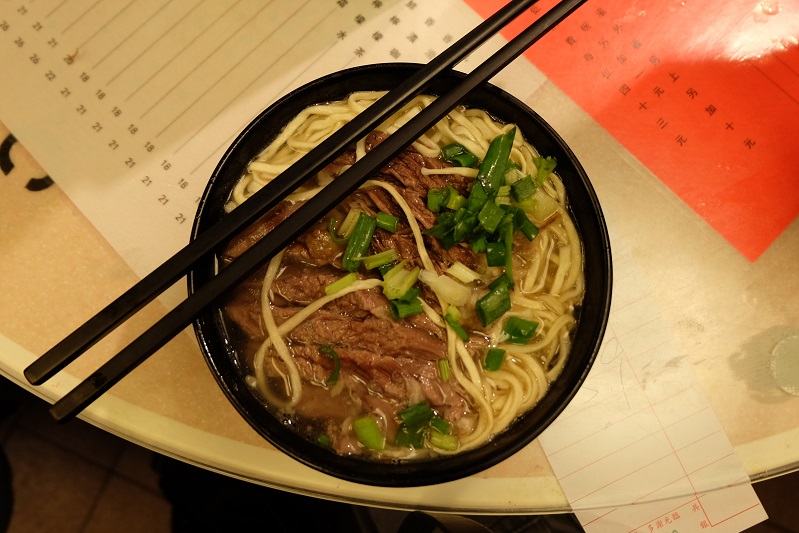 Kau Kee
G/F, 21 Gough Street
Central
Hong Kong
Another common street food dish is wanton noodle soup. This consists of thin noodles in soup served with steamed wanton dumpings which are usually filled with minced pork and/or prawns and Chinese vegetables.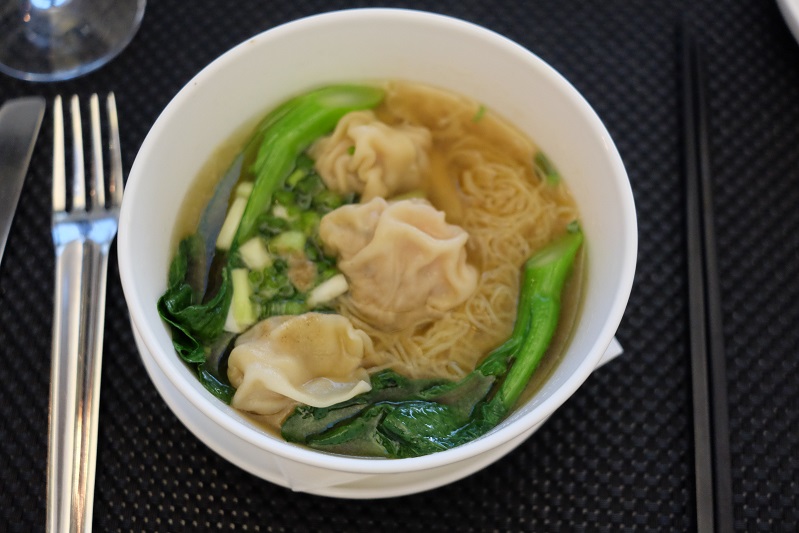 Snack Food
A common snack food that is usually eaten around breakfast time is rice rolls ('ju cheung fun'), which are rice noodle sheets that are rolled up and cut into tubes. These are often eaten with a combination of a sweet sauce and a peanut sauce, or can also be filled with barbecued pork or prawns and then served with soy sauce (which is the usual presentation in dim sum restaurants). If the former, these can be slippery little suckers' so this is the one few times when local or tourist there is no shame in not using chopsticks – long toothpick-like sticks are provided.
If you are looking for something a little (but not too) sweet one of the most interesting desserts one can find in Hong Kong is a bowl of soft tofu served warm with sugar and ginger syrup ('dau fu fa'). If done right, the tofu is delicate and falls apart in the mouth. The sweetness of the sugar syrup really livens up the flavour of the dish and the ginger (which differentiates the Hong Kong version of the dish from that available elsewhere in Asia) adds a nice little zing. If you try this you should definitely to go to one of the street stalls where they make fresh tofu on site daily.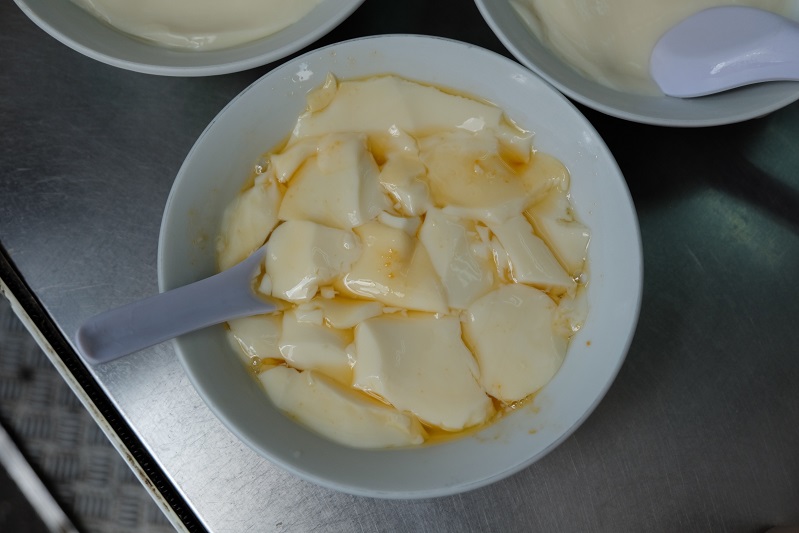 One great way to sample the range of street food that Hong Kong has to offer is to try out one of the tours offered by Hong Kong Foodie, These run for 3-4 hours starting in the morning and take you to six locations to try a variety of different food and drink.  There are no tourist traps here, in fact the advantage of these tours is that you are taken to local areas where speaking Cantonese is essential, with the guide providing interesting colour and background to the area you are in. I went on the street food tour around Sham Shui Po, which is an area of Kowloon that is further out than most tourists would generally go. There is also a tour around Central and Sheung Wan for 'beginners' and a tour of the Tai Po market for the more adventurous eater.
Hong Kong Foodie Tasting Tours
Cost: HKD 720 per adult/HKD 520 for children under 15
Telephone: +852 2850 5006
Email: [email protected]
Website: http://www.hongkongfoodietours.com/
Cantonese Food
The commonly found Asian cuisine in Hong Kong is Cantonese food, which has historically been served in crowded, stuffy restaurants with plain white tablecloths and 'lazy susans' for enabling easy sharing of food. More recently there has been a trend to try to 'modernise' Cantonese food, both in terms of the food itself but also in terms of the setting. On my recent visit to Hong Kong I was pleased to find both a number of the classics as well as some innovative tweaks to standard dishes. Here are a few of the best Cantonese restaurants I ate at.
M&C Duck
Perhaps the most well known of all Chinese dishes is 'Peking Duck', which typically consists of sliced roast duck with the skin on, along with a delicate steamed pancake, cucumber and a sweet bean sauce which you then assemble yourself. Where the Hong Kong version of this dish really improves over the version you typically find in Western countries is that the skin is served separately from the rest of the duck and the flesh is cut very thin. This ratio of pancake to meat to skin results in a better flavour balance than the case where the meat is thicker. On this trip I tried this and a number of other dishes at M&C Duck, a relatively new restaurant in Tsim Sha Tsui. The Peking Duck pancakes here were spot on, living up to the restaurant's name.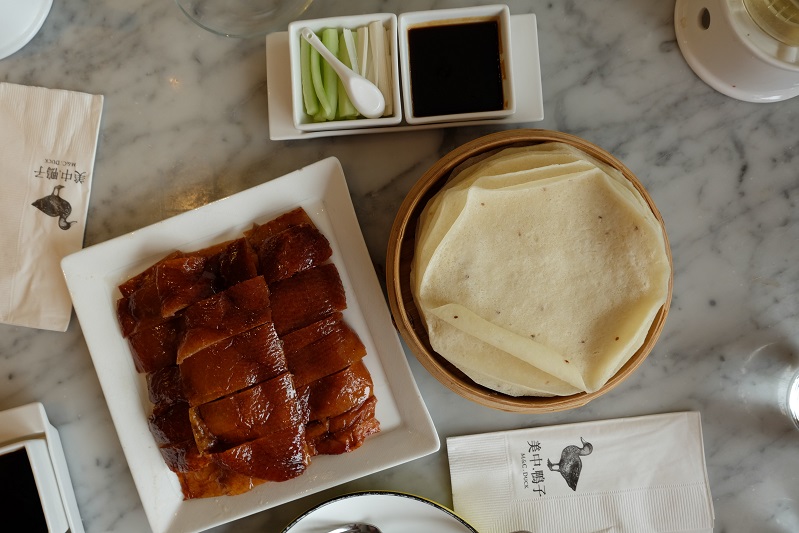 Another dish that is a common Cantonese cold appetiser is sliced pork served with cucumber, garlic and both dried chillies and chilli oil. This is a really flavoursome dish with lots of different flavours which is a contrast to a lot of Chinese food which often gets a bad rap for being somewhat bland – the fact that the dish is served cold helps to take a bit of the edge off the spiciness.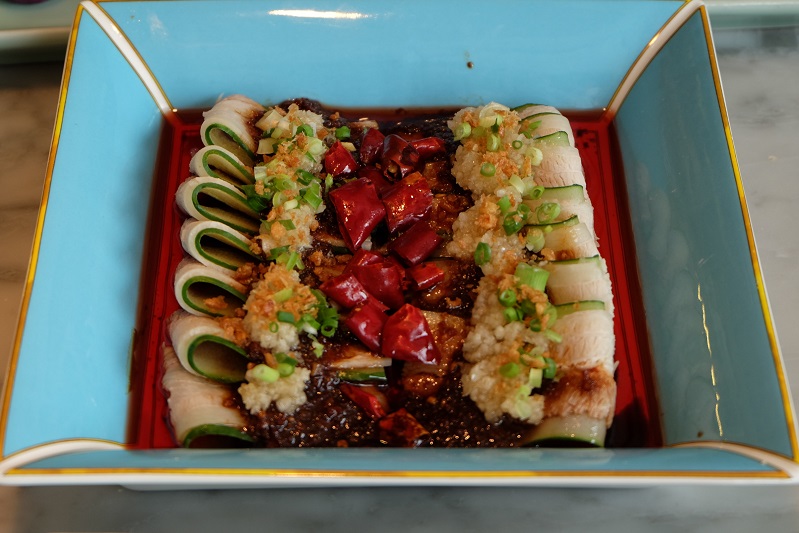 An often maligned dish is the innocuous sweet and sour pork and once again the Hong Kong version, in this case served with cranberry sauce, demonstrates my belief that 'there is a good version of everything'. Gone is the thick outer batter and in is a much more subtle coating and juicy spare rib meat with just the right amount of fat.
The last course that we had at M&C Duck was fried ice cream which is another dish that is commonly found at Chinese restaurants in Western countries. Unlike the 'breaded' version that most Westerners are used to, the Hong Kong take on this dish is essentially a block of (initially very frozen) ice cream wrapped in a layer of pastry and fried.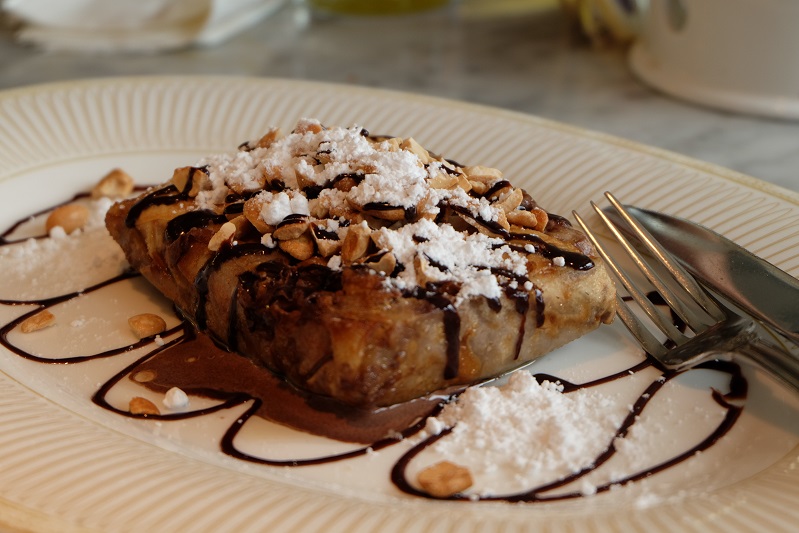 M&C Duck
Shop 3319, L3, Gateway Arcade
Harbour City
Tsim Sha Tsui
Hong Kong
Social Place
Social Place is another recent entrant to the Hong Kong food scene, which also serves Cantonese dishes in a modern setting, with a number of modern twists to classic dishes. This meal involved sampling literally their entire menu so I'll only mention a couple of the more interesting dishes here. One of Social Place's signature dishes is the roasted white king pigeon which essentially comes across like a really small roasted duck with the same crispy roast skin and gamey flavour. This (or alternatively roasted quail) is a very commonly found dish in Cantonese restaurants.
Another classic Cantonese dish that I had at Social Place was the minced duck lettuce cups ('san choi bao'). In Australia this is often done with pork or chicken but in Asia duck is a commonly used filling, particularly in restaurants that serve an entire roasted Peking Duck across multiple courses. This is another one where you 'help yourself' by filling a lettuce cup with minced meat which is generally mixed with chestnuts and green onions.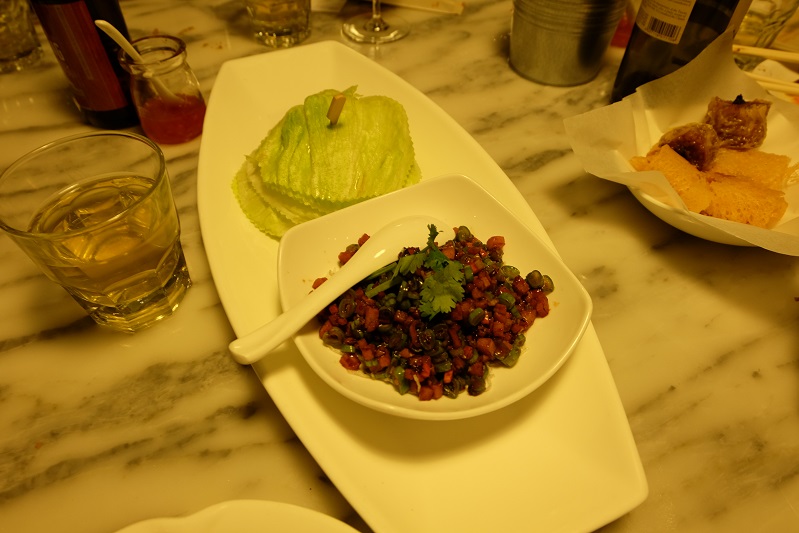 One of the most interesting things that I tried at Social Place was the spicy '10,000 year' duck eggs. Otherwise known as a 'century egg' these are a delicacy made by preserving eggs over a period of time that can range from weeks to months, during which the yolk turns dark green/grey and the while turns a translucent brown. The compounds used in the preservation process result in a strong ammonia smell and a salty taste and as a result this dish often shows up on 'eating challenge' lists and the like. Saying that, I do know people who swear by century eggs so they are a taste that can be acquired.
While this is not a dish that is generally high up on my priority list the spiciness of this particular version helped to offset to the rest of the aromas and flavours – I think that everyone should eat a century egg at least once and if you are going to then this is probably the version to try.
Social Place
2/F, The L. Place
139 Queen's Road Central
Central
Hong Kong
Sichuan Food
Other than Cantonese food, the Asian cuisine that you'll come across most often in Hong Kong is Sichuan food. Characterised by the extensive use of chillies and Sichuan peppercorns which create very spicy flavours, this is one of my favourite styles of food. On this trip I sampled this style of cuisine in two very different settings.
Da Ping Huo
My first experience was at private kitchen called Da Ping Huo which is run by a husband and wife team and is located in an unassuming little shop in the middle of the Soho area that has no windows and could easily be mistaken as being underground. The only dining option is an 11-course set menu which includes 3 cold appetisers, 7 main courses and a dessert. As was the case with Social Place this restaurant could be the subject of a review post of its own accord so I'll just mention some of the dishes that are most representative of Sichuan cuisine.
The first main course on the menu on the day I visited was braised chicken in chilli oil with peanuts Sichuan spices. Served cold, this dish is the Sichuan take on drunken chicken and is quite spicy, with the unmistakable numbing 'aftertaste' resulting from a liberal dose of Sichuan pepper.
Another of the main courses was a warm dish of stewed beef brisket and tendon in spicy gravy which is commonly found in Sichuan restaurants either standalone or as a smaller serve with a bowl of rice. Like the beef soup noodles this dish uses cuts of meat that are commonly discarded in Western cooking but they are very flavoursome and really absorb the spiciness of the gravy which is again loaded with chillies and Sichuan pepper. The meat is quite tender and falls apart easily in the mouth and this was probably my favourite dish on the menu (and is one of my favourite Sichuan dishes overall).
The last, and perhaps scariest looking, main dish was a sliced fish fillet served in a chilli broth. The fish is steamed until cooked but still firm and is left floating (or more accurately buried under) a vertiable sea of dried chillies. Surprisingly this dish was not as spicy as the previous two dishes, although perhaps this was because my taste buds had been numbed slightly over the course of the meal!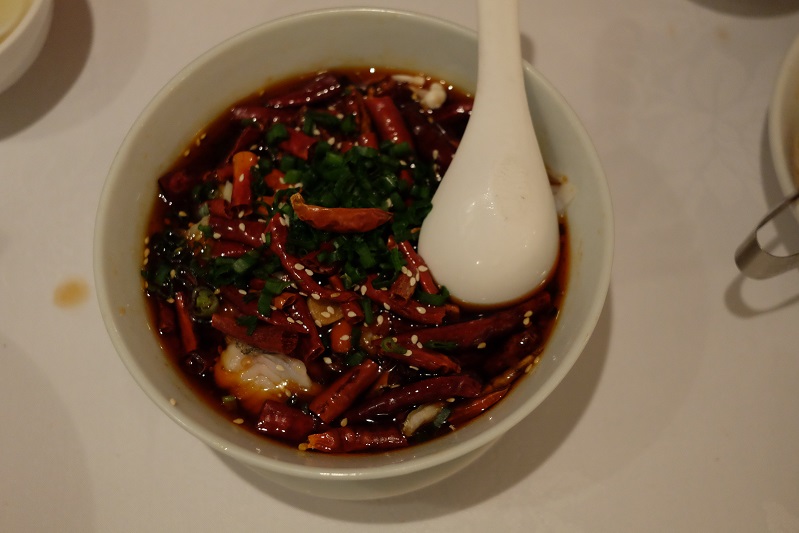 Da Ping Huo
LG/F, 49 Hollywood Road
SOHO
Central
Hutong
The second place where I got to try Sichuan food was at Hutong which in contrast to the previous establishment is located at the top of the 1 Peking Road building on the Kowloon side of Hong Kong and has a glorious view over the Harbour and the skyline of Hong Kong Island. Hutong is rated as one of the best Chinese restaurants in the world and whilst it does not specifically focus on Sichuan food there were two excellent examples of the style on the menu.
The first was the 'kung pao style' prawns which are fried in a sauce typically consisting of soy, vinegar and sugar/honey, along with ginger, garlic, chillies (of course), spring onions and nuts (in this case cashews but peanuts are common also). In Sichuan restaurants kung pao chicken is more commonly found. This is a good entry-level Sichuan dish as it is a little sweet and generally not too spicy.
The second was Hutong's signature dish, crispy soft shell crab served with Sichuan dried chillies in a 'Red Lantern'. Again this dish looks very scary but as long as you don't eat the chillies themselves (which as I found out were quite spicy) you get to enjoy the slight crispiness of the soft shell crab with a pleasant but not overpowering chilli kick.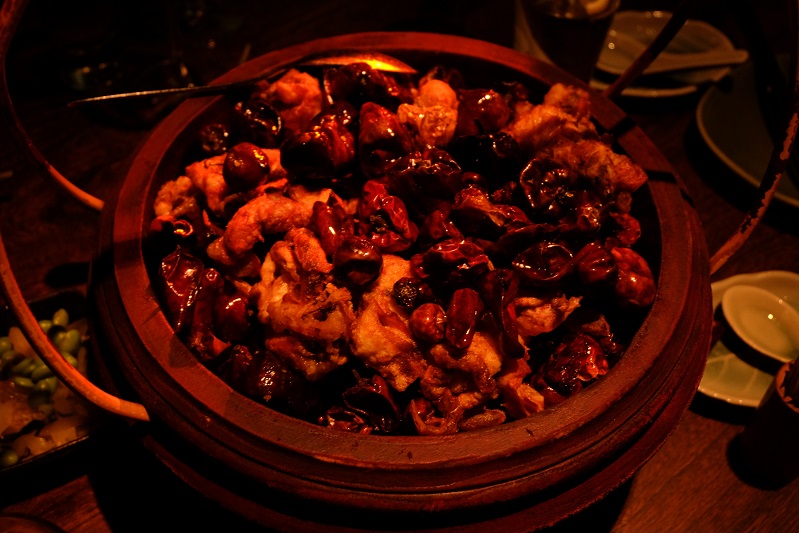 Hutong
28/F, One Peking
1 Peking Road
Tsim Sha Tsui
Hong Kong
Western Food
Being a former British colony and also a major financial centre, Hong Kong has very strong Western influences and a large expat community. As a result there is no shortage of Western food available along side the various types of Chinese food on offer.
Burger Circus
The classic beef burger is often the yardstick by which a place is measured and I found an excellent American-style burger at Burger Circus which is located in the Central area.
The setting is very reminiscent of an American diner and would easily be in place in a city like Melbourne or London where American food is very 'on trend'. The menu is focussed, offering only a small range of burgers with different fillings and a short list of sides. The burger itself was a good size at 5oz/140g and could easily be eaten one-handed. The patty was juicy and cooked medium-rare and the American cheddar cheese was melted nicely over the patty. The only criticism I would make was that there was a bit too much lettuce which added too much crunch to the burger – anyone who has read our guide to burgers will know that we could happily forego salad items altogether in a burger.
Flint Grill & Bar and JW Cafe
High-end Western food, and in particular steak, can often be hard to come by in Asian countries and I often find myself overloading on steak before a trip to the region as a result. I am generally also not a fan of eating at hotel restaurants, preferring to head out and explore a city's food scene. As a result I was very pleasantly surprised to find that there were a number of excellent restaurants within the JW Marriott itself.
The Flint Grill & Bar is a fine dining restaurant which, not surprisingly, has a strong focus on grilled meat and seafood. To start I had the house cured salmon with honey mustard and flaxseed bread.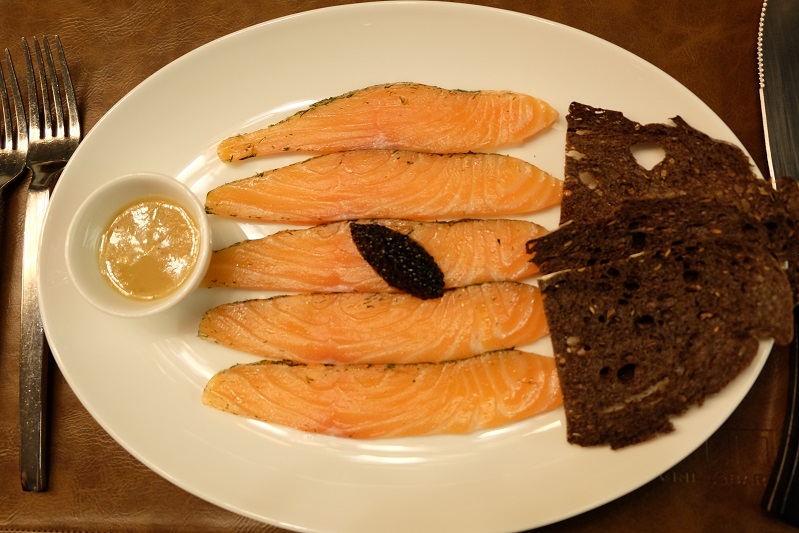 This was then followed by the 10oz/280g sirloin steak, served with garlic potatoes and a red wine jus. This definitely dispelled any ideas that I had about not being able to find quality steak in Asia, the USDA Prime Graded organic beef was cooked perfecly medium rare and had great flavour and a nice char from the grill.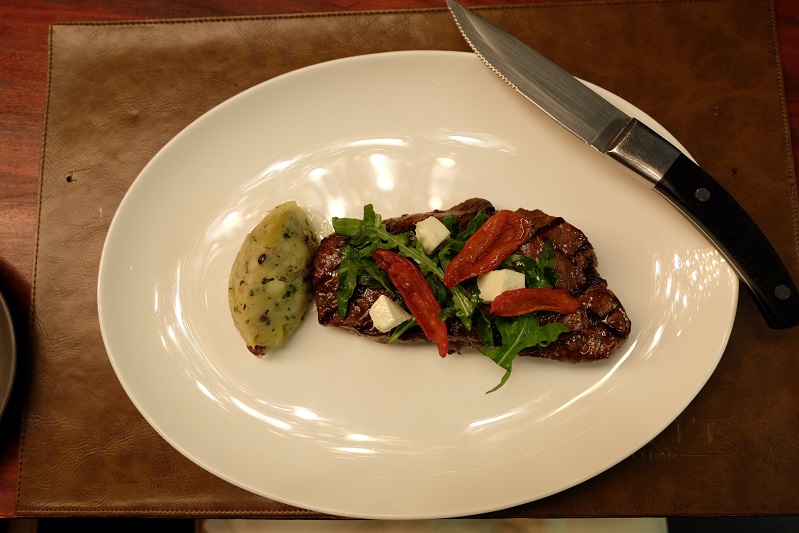 Flint Grill & Bar also specialises in 'craft mixology' with unique recipes specially designed by head bartender Bryson Rivera and served in equally unique ways such as the 'Holy Smoke' which is a gin-based cocktail that I tried on my first night in Hong Kong.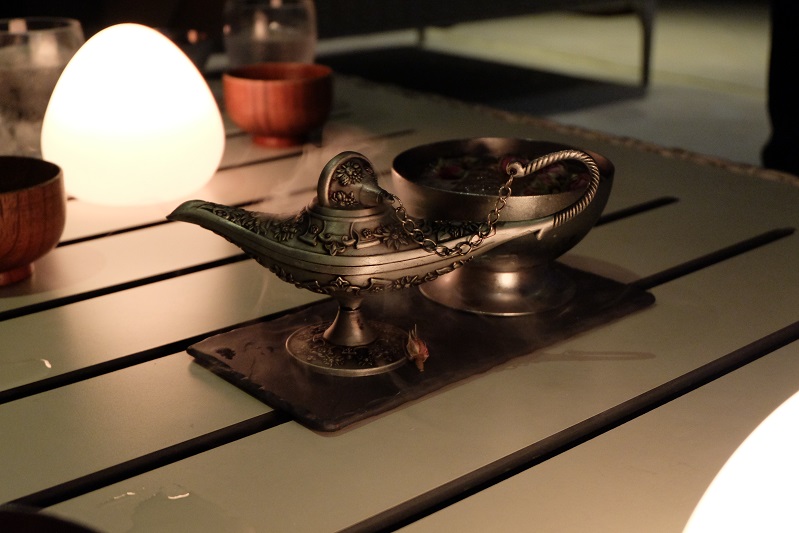 Also within the hotel was the JW Cafe which offers a buffet with a wide range of Western and Asian food as well as a very impressive seafood offering. JW Cafe also offers the only hotel breakfast buffet in Hong Kong that serves dim sum that are hand made in house.
JW Marriott Hotel Hong Kong
Pacific Place
88 Queensway
Admiralty
Hong Kong
Paella Paella
For those looking for Spanish food, Paella Paella is located in a little district called Tai Hang that is a bit removed from the chaos that is Causeway Bay and has progressed from being an area dominated by car repair shops to a place that is largely residential and filled with cool/hip bars and restaurants. This place serves up Spanish food in a casual, cozy setting and the highlight was definitely the squid ink paella with calamari and clams which was authentic from the paella pan down to the slightly burnt crispy bottom layer of rice.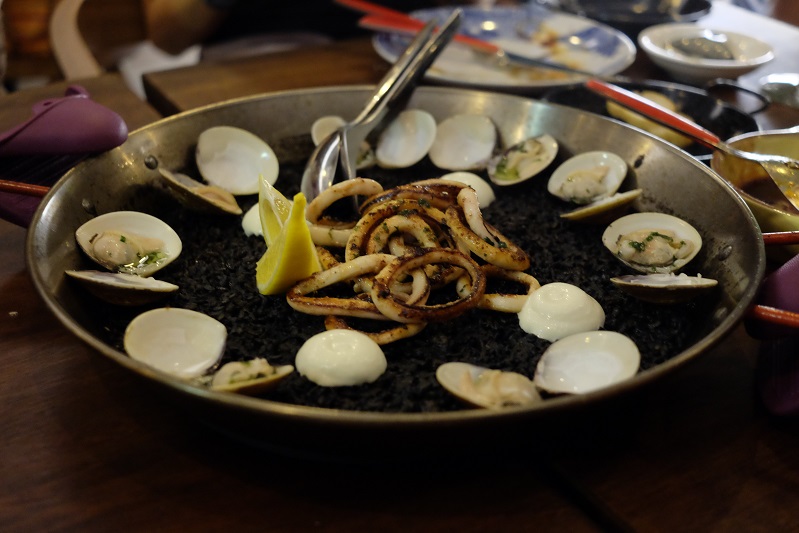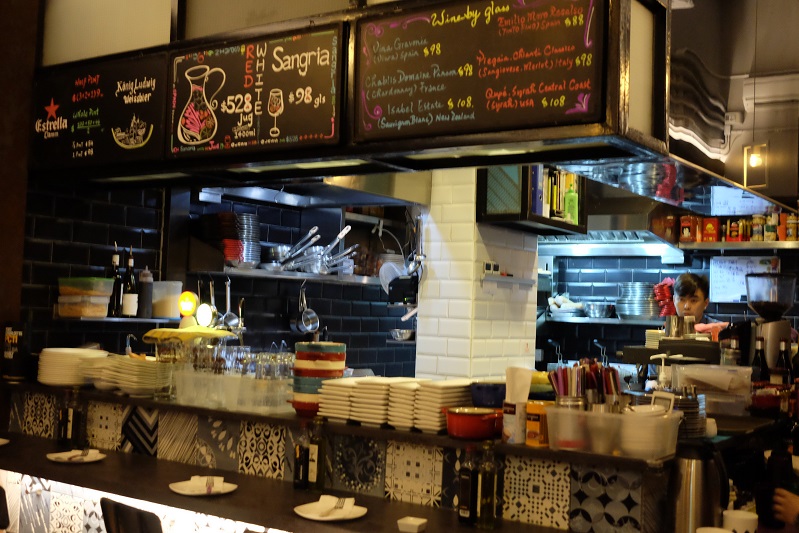 Paella Paella
G/F, 9 Wun Sha Street
Tai Hang
Hong Kong
Aberdeen Street Social
Another type of food that is often done poorly in western restaurants in Asia is pizza but I found a good pizza at the Aberdeen Street Social which sits within the Police Married Quarters (PMQ) complex. As well as housing restaurants, PMQ is a multi-function space that has been set up to both host events that promote the cultural side of Hong Kong and also provide a space for local and international artists and designers to set up a work space and also sell their wares.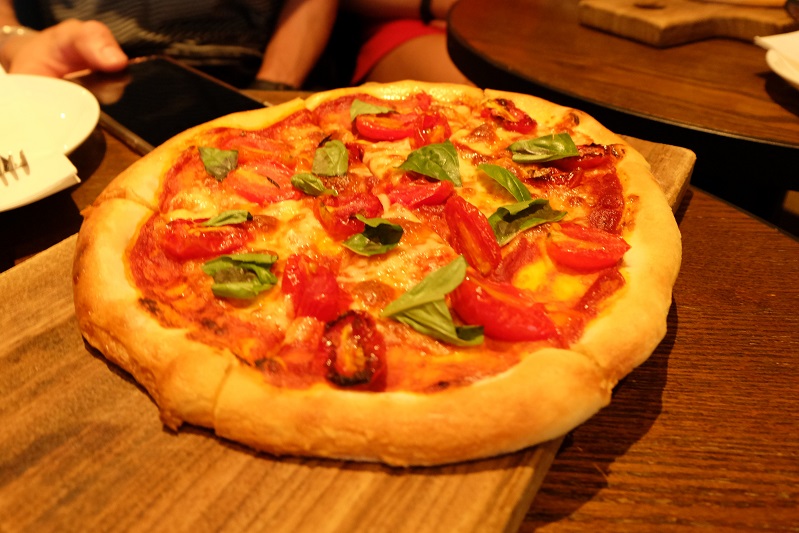 Downstairs is a casual all day dining area that in addition to serving pizzas/flatbreads and a range of sandwiches also offers a number of pub-style main dishes like sausages and mash and steak and fries. However, the main event is in the upstairs restaurant where Michelin starred chef Jason Atherton has developed a full ala carte fine dining menu – unfortunately I didn't get a chance to eat upstairs during my visit but I will definitely look to do so the next time I am in town.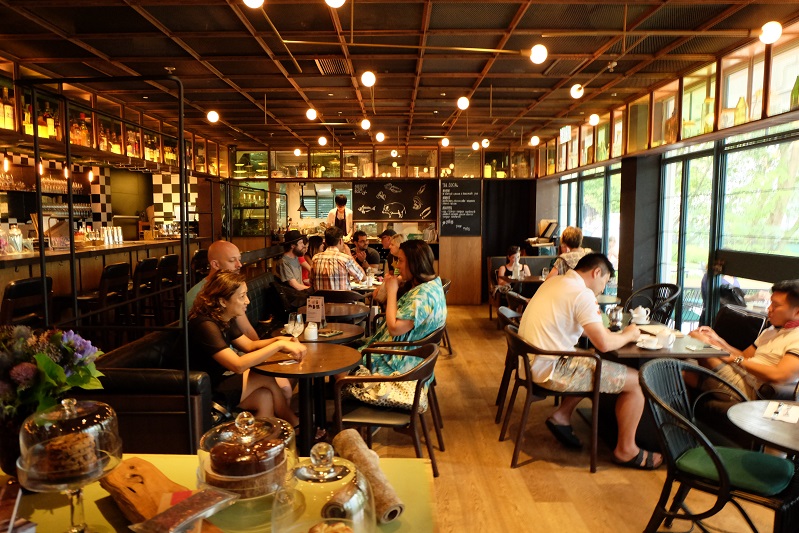 I hope you enjoyed reading through this food guide to Hong Kong and that this has given you some starting points for your food adventures in Hong Kong. If you want to visit Hong Kong and haven't yet booked your flights, we highly recommend using Cathay Pacific to search for flights to Hong Kong. They're one of our favourite airlines and this guide wouldn't have been possible without their support and open-mindedness.
If you're from Hong Kong or have visited we'd love to hear any Hong Kong food recommendations that you have in the comments below. For even more detail keep an eye out for The City Lane's in-depth guides to dim sum, street food and various restaurant reviews which we will be posting in the near future.