[content_slider]
[content_slide]
[/content_slide]
[content_slide]
[/content_slide]
[content_slide]
[/content_slide]
[content_slide]
[/content_slide]
[content_slide]
[/content_slide]
[content_slide]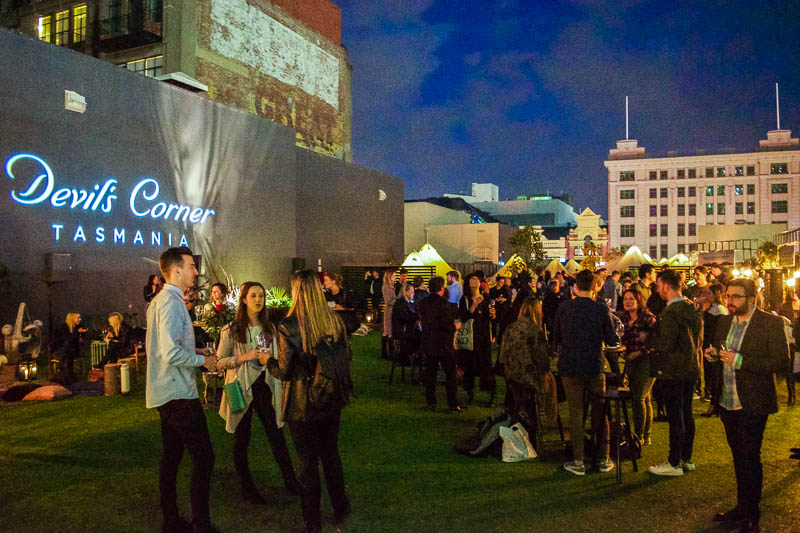 [/content_slide]
[content_slide]
[/content_slide]
[content_slide]
[/content_slide]
[content_slide]
[/content_slide]
[content_slide]
[/content_slide]
[/content_slider]
MELBOURNE | In a one-night-only event, St Jerome's Hotel played host to 'From The Wild', which saw a display of some of the best local Tasmanian producers coming together to put on a food and wine pairing event unlike any other. With five different food and wine pairing stations set up to enable guests to leisurely roam between each station, the evening proved to be a spectacularly enjoyable experience, made even better by the rain holding off until later in the evening.
With high accolades towards its wines, in particular their Pinot Noir, Devil's Corner certainly boasts an impressive reputation. At this event, a different Devil's Corner wine was showcased at each station, with their flavour profiles expertly matched to the local Tasmanian produce on offer. Taking us through Riesling, Pinot Grigio, Sauvignon Blanc, Pinot Noir and Chardonnay, each had a distinct taste and aroma to match with the fresh seafood, cheese, meats and fruits on offer.
Mirroring the cooler climate and rugged terrain of the east coast of Tasmania, which is the ideal environment in which to grow the Devil's Corner grapes, the cool Melbourne weather set atop the rooftop 'urban glamping' scene of St Jerome's Hotel proved to be the perfect location in which to showcase this excellent produce, successfully bringing a 'taste of the Tasmanian wild' to Melbourne. Based on the success of this event, let's hope 'From The Wild' becomes a regular occurrence, as it is a great way to expose some of Tasmania's local offerings.