[content_slider]
[content_slide]
[/content_slide]
[content_slide]
[/content_slide]
[content_slide]
[/content_slide]
[content_slide]
[/content_slide]
[content_slide]
[/content_slide]
[content_slide]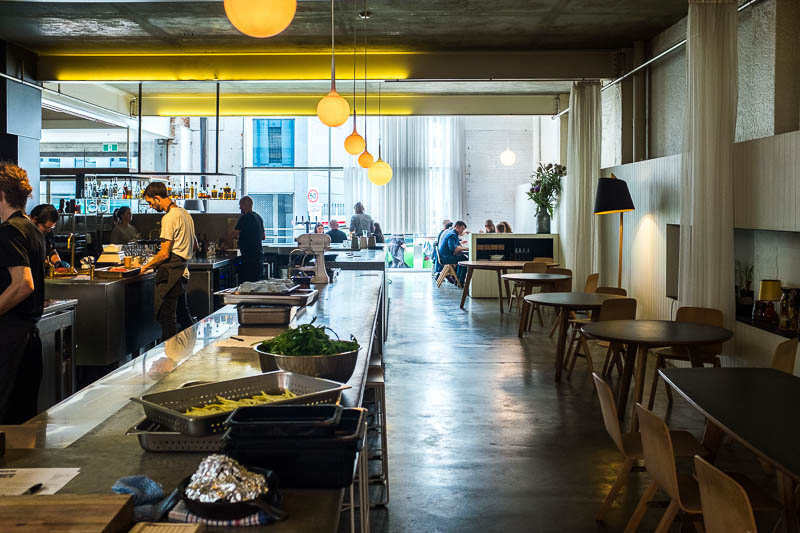 [/content_slide]
[content_slide]
[/content_slide]
[content_slide]
[/content_slide]
[content_slide]
[/content_slide]
[content_slide]
[/content_slide]
[content_slide]
[/content_slide]
[content_slide]
[/content_slide]
[content_slide]
[/content_slide]
[content_slide]
[/content_slide]
[content_slide]
[/content_slide]
[content_slide]
[/content_slide]
[content_slide]
[/content_slide]
[content_slide]
[/content_slide]
[content_slide]
[/content_slide]
[content_slide]
[/content_slide]
[/content_slider]
HOBART | If there's one restaurant that appears on everyone's "to do" list when in Hobart it's Franklin. Located in Hobart's CBD, Franklin has received a lot of accolades since it opened at the end of 2014. The restaurant is housed in an old Ford showroom dating back to 1923, between the former home of Hobart's Mercury newspaper and a car park. The conversion has been respectful to the original site, resulting in a large, industrial space with clean lines, a tall ceiling, and lots of polished concrete. Scandinavian style furniture, timber, copper, mats, and a fireplace serve to add a touch of warmth. The kitchen is front and center at Franklin, large and located in the middle of the restaurant. There are no walls and it's completely exposed to the restaurant – the most open 'open kitchen' we've seen.
The food here is all about making the best of what Tasmania has to offer, which is an abundance of fresh, high quality produce. Ingredients and produce are king here, and dishes are created in ways that allow the quality ingredients to shine. We ordered a la carte and were impressed with almost all of the dishes we tried, which in almost all instances are designed to share.
The roast chicken , served with chimichuri, and a white radish quinoa salad was outstanding, as was the flavoursome, creamy grain risotto with braised nettles. The chicken liver pate was smooth and unctuous, and went perfectly with the dense, house made bread. Salads were fresh and simple, and hit all the right notes. For dessert, the basil sorbet provided a refreshing, sweet and herbaceous palate cleanser.
The drinks list that has been put together by beverage manager Forbes Appleby has the menu, food, and ethos of the restaurant in mind, and focuses on local and international wines that lean towards the organic, minimal intervention, unique side of things. Cider, beer and spirits are also well considered, but wines are the highlight here. Forbes was working when we visited and we let him guide our drink decisions based on the dishes we ordered. It was the right decision, and we discovered some truly amazing wines, including the Momento Mori 'Staring at the Sun', an orange wine that blends Moscato Giallo, Vermentino and Fiano from the Chalmers vineyard in Heathcote.
Whether it's for a drink and snack, a lengthy tasting course, or something in between, Franklin nails almost everything that it sets out to achieve. The one criticism that we had from our visit was the pacing of the dishes, and lack of explanation as to what each was. Usually dishes at restaurants like this arrive at a consistent pace, but the delivery when we visited was quite uneven. On several occasions, we also had to ask for some details as to what the dish being delivered was about – ingredients, purpose etc. Usually staff know this and give a little spiel when putting each dish down.
Note: We visited Franklin when the kitchen was being headed up by original chef and co-ownerDavid Moyle. Moyle has since moved to Melbourne to focus on his new venture, Long Song. Since August 2017, the kitchen at Franklin has been run by Analiese Gregory (ex Bar Brose, Sydney). Watch this space.
Franklin
28-30 Argyle Street
Hobart
Tasmania 7000
Australia
Telephone: (03) 6234 3375
E-mail: [email protected]
Website
Open
Tue – Sat: 8:30am to 11:00pm