Gion, Kyoto is one of the most well known Geisha districts in Japan, with beautifully preserved architecture and traditional customs and entertainment. The streets of Gion are characterised by old wooden townhouses (machiya) which contain teahouses (ochaya), shops and restaurants. These buildings give the district a beautiful old world charm and, understandably the area is very popular with tourists. There are several modern streets in the area too which house accommodation, bars, clubs, restaurants and the like.
If you see a geisha posing like this, chances are she's not a real geisha but rather an actor who will pose for tourists in exchange for money. This geisha, who I photographed from the side, was posing for some Chinese tourists, with some British tourists lined up next. Note that these are not official paid actors, but generally visitors themselves, and their presence is generally frowned upon.
Gion's development originated in the middle ages, with the construction of the Yasaka shrine in 656. In July each year the Gion Matsuri festival is held, as it has been since 869. The festival lasts the whole month, and culminates in a huge street parade, Yamaboko Junkō. For 3 days before the parade (yoiyama) the streets are closed off to all non-pedestrian traffic and are lined with street food vendors, with some private residences opening their doors to exhibit precious family heirlooms.
Usually, an akachōchin (red lantern) outside a building denotes that an Izakaya is inside. In Gion, however, they can also signify ryotei or ochaya – mostly 'member only' establishments. In any case, walking through the streets of Gion it becomes very clear that there are no shortage of places to eat. Prices in the area are at the higher end of the scale, owing to its popularity and the large number of tourists that visit.
The geisha, or geiko as refers specifically to Kyoto geisha, operate in much the same way as they always have, providing entertainment to patrons of the tea houses. Entertainment includes things such as providing food, drink and conversation, dancing, singing, and performing music.
Around 6PM, many geiko and maiko (geisha in training) can be seen moving around Gion's streets as they move from one engagement to another. The presence of security is to ensure that the geisha are not hassled when trying to get about as there are a lot of tourists around trying to get photos. Most people were respectful, standing to the side of the street and waiting for the right opportunity however there were some tourists who unfortunately went into full-on paparazzi mode as soon as they saw a geisha and had to be cautioned by security. Gion around this time of the day can get quite intense. Some good tips on photographing geisha can be found here.
The Shirakawa canal is lined by willow trees and several high end restaurants. It's a very beautiful, quieter part of Gion and is a nice spot for reflection.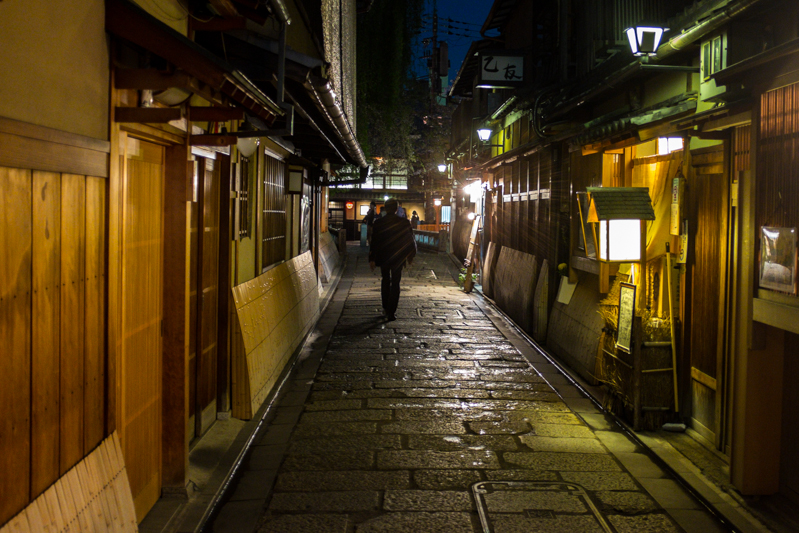 I noticed this geisha just outside of Gion's border and was captivated by the contrast between the old world and the new. Inside Gion's borders the geisha looked like they belonged, however just a few meters outside, they looked like they'd been picked up from old Japan and dropped into the centre of the modern world.
Kyoto is stepped in history, and is one of those cities where many of the things on the tourist trail are genuinely worth doing. Gion is no exception, and walking through its streets feels like stepping  back in time. Despite the large number of tourists around, it's still very easy to get a sense of serenity and authenticity in the area as most tourists tend to focus on the area around Hanami-koji Street from Shijo Avenue to Kenninji Temple, with numbers tapering off quite dramatically outside of this area.