Kyoto, just like every other city I visited in Japan was full of great food. In Osaka, I realised that what I knew about Japanese food barely scratched the surface of the intricacies and depth of this unique cuisine and in Kyoto, the journey of discovery continued.
Japanese food is very regional. While there are common dishes and ingredients across the country, each region has its own speciality dishes, ingredients and techniques – be it using chicken instead of pork, thin noodles instead of thick, mustard instead of wasabi, frying instead of steaming etc. Some of the food that I ate in Kyoto simply couldn't be found when I visited Osaka and Tokyo.
Many of the food places in Kyoto are small, and seat no more than a handful of people and they are found everywhere. On main streets, down alleyways, in basements, and several stories up in the high rise buildings that are all over the city somebody is cooking something. Sometimes these places are easy to spot and sometimes they are not – the phrase "follow your nose" is apt. Indeed, by the end of my time in the city I'd barely visited any of the recommendations that were on my list – my wife and I kept on stumbling across places that looked and smelled amazing, and were full of locals – always a good sign.
If I have one piece of advice to impart to you for when you visit Kyoto it would be to bring a list of places to visit, make sure you check out a few of the places that really interest you but don't let the list restrict what you try. Often you'll find yourself in a part of town that's not near any recommendations on your list. Additionally it can be hard to find certain places as streets are more often than not not in English (both physical street signs and in Google Maps), the venues don't have English names and aren't always on the main street level. Use the guide as exactly that – a guide. Follow your nose and don't be afraid to make your own discoveries. I ate more things in Kyoto by way of on-the-go discovery than I did by referring to my list.
Food standards in Kyoto are high, from the quality of the food and its presentation to the customer service that patrons receive. I've never been anywhere in the world where standards are so high on such a consistent basis. Perhaps because of this, Japan has a reputation as being an expensive place but I was surprised at how affordable the food and drinks were in the country – not as cheap as that in other Asian countries such as Vietnam and Thailand of course but when compared against similar highly developed, global centres, it fares well.
I'm going to try and keep any repetition between my Tokyo, Osaka and Kyoto food guides to a minimum and will be cross-referencing to the other guides in here as I put them up. Rather than listing the places that I ate at, I think a better way of setting things out is by the type of food – a brief introduction to the dish, followed by some recommendations based on my experiences followed by recommendations that were on my list that I never got around to visiting.
Tonkatsu
One of my favourite comfort foods back home is chicken katsu, which is a crumbed and deep fried chicken cutlet, generally served with rice and cabbage. In Japan, chicken katsu is rare, with pork katsu (tonkatsu) being much more widespread and popular. Either a pork fillet (hire) or loin (rōsu) is crumbed with panko (Japanese breadcrumbs which have a greater surface area and result in a crunchier, lighter coating than western style breadcrumbs) and deep fried. It is served with rice and cabbage and tonkatsu sauce, which is similar to Worcestershire sauce.
Yamankana
My wife and I stumbled across Yamankana while walking through a relatively quiet part of the city on our way to the Imperial Palace. I'd be lying if I said that all of the pig related paraphernalia at the front didn't get my attention. I was craving some Tonkatsu, and my wife and I were both very hungry so we decided to go in and give it a go.
The pig paraphernalia didn't abate inside. There was pig stuff everywhere. We were greeted and seated by an old man who turned out to be the owner who, while not speaking much English, notified us that the golden pig outside was called "Miss Lucky". Normally all of these things would be a sign of tackiness and a bad meal ahead however being a few days into my trip, I knew that the usual rules didn't really apply in Japan.
Sure enough, when my Tonkatsu set arrived and I bit into that first perfectly crumbed, succulent piece of pork fillet I knew that I had nothing to worry about. The owner assumed that we hadn't eaten Tonkatsu and kindly showed us which sauces to use on which dishes and how to mix/eat everything. I think it was a novelty for him to have foreigners in the restaurant, as he kept on proudly showing off various pig related trinkets.

The Tonkatsu wasn't at the same level as the one I had at Katsukura below or Maisen in Tokyo, but no Tonkatsu I have ever had before or since has been. What Yamankana offers is a very tasty, good quality Tonkatsu in a quirky, charming spot.
Yamankana
337 Sashimonochō
Nakagyō-ku, Kyōto-shi
Katsukura
Katsukura is considered by many to serve some the best Tonkatsu in Kyoto, despite being a nationwide chain now. I went to the main branch and was really impressed with the food. There was a choice between 2 different breeds of pork, the fatty or lean cuts, in a variety of sizes.
I had the main set which came with the tonkatsu (which had perfectly light, crispy crumbs and succulent pork) as well as rice and unlimited cabbage and miso. I liked that there were a few things that made Katsukura unique compared to most tonkatsu places. Their sauce was not the usual tonkatsu sauce but rather the choice between sweet and chilli sauces which, while very similar to tonkatsu sauce, were a bit different. The salad dressing was also a really punchy yuzu sauce.
The sesame seeds were to crush and combine with the sauce before dipping the pork into it. All up, a really satisfying meal. I was so impressed with the salad dressing the I bought a bottle to take home.
Katsukura
674 Bantōyachō
Nakagyō-ku, Kyōto-shi
Also
312 Higashidaimonjichō
Nakagyō-ku, Kyōto-shi
TheCUBE 11F
Kyoto Station
901 Higashishiokōjichō
Shimogyō-ku, Kyōto-shi
Izakaya
An Izakaya is a casual venue that serves food and drinks. Similar in style to Spanish Tapas venues, there are a range of small dishes on the menu and you can either order as the night progresses or in one hit at the start. The food comes out as it's cooked and the whole thing very informal. Generally there's an open kitchen with seating at the bar/kitchen as well as standard tables.
Yakitori Hitomi
Yakitori refers to grilled chicken (generally over binchō-tan, or "white charcoal") and this place specialised in yakitori. Yakitori was something that I was quite ignorant about before visiting Japan. I'd been to so-called Izakayas and eaten yakitori outside of Japan but the real deal is a different proposition. The binchō-tan provides the meal with a wonderfully subtle smoke flavour and the fact that every part of the chicken is used across the various menu options was a new discovery.
I had one of my best meal experiences in Japan at Yakitori Hitomi. My wife and I decided, on our first night in Kyoto, to walk around the streets near our hotel which were a mixture of residential, commercial and food related places. Walking down one street, we saw this place with its lights on and the hum of conversation and other noises common when one walks past a popular bar or restaurant. We walked in and asked if there was a spot for 2 however the place was full. The staff didn't speak English, however we managed to arrange a booking for the following night at 8pm.
When we arrived the following night, we were seated at the bar, which was great as I love sitting at the bar when at an Izakaya – it's the best spot to see all of the action in the kitchen and on the grill. One of the staff brought out a menu for us which was completely in Japanese with no pictures but had rough English translations pencilled in for most of the items (a few just had "?"). This was completely unexpected and one of many examples of the amazing customer service that we experienced in Japan.
The food itself was amazing, with dish after dish continually impressing. A while into the night, a couple sat down next to us and asked us how we had found the place. We told them that we'd stumbled across it and that we made the reservation. He was surprised, and told us that the place has a very good reputation in Kyoto and, due to its popularity and demand, doesn't normally take bookings.
To being with we had slices of chicken breast with cheese. Before visiting Japan I wouldn't have considered chicken with cheese to be Japanese food and while I suppose it's not traditionally Japanese, it's certainly popular and was on the menu at every yakitori venue I visited.
For the entire night, the chef didn't stop cooking meats on the grill. It was fascinating to watch him do several things at once for such a long time and never let up.
A side of cabbage.
Seseri (chicken neck)
Pickled vegetables.
Tare Tsukune (chicken meatballs with sauce & mustard). This mustard is more common than wasabi in the Kansai region of Japan. I saw it used constantly in Osaka and Kyoto and found it to be hotter than real wasabi (as opposed to the horseradish based faux-wasabi that's found outside of Japan).
Fried chicken thighs with mayonnaise – another very common yakitori dish.
Duck with an orange sauce.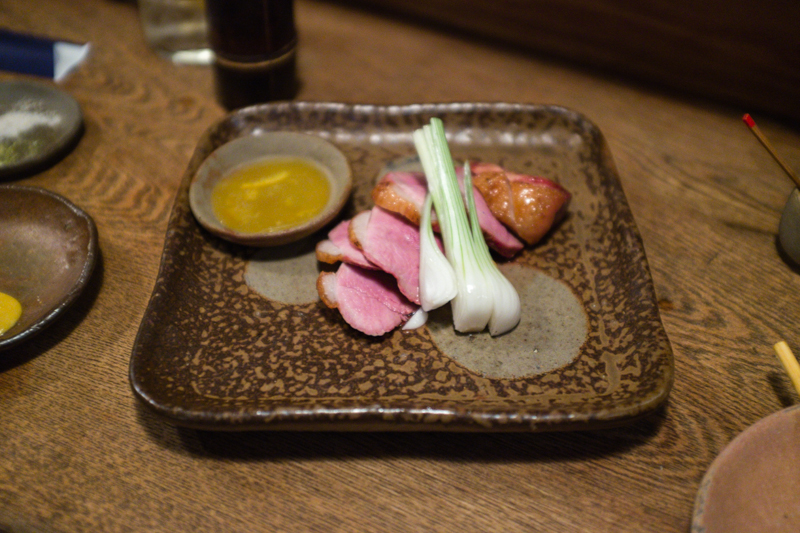 Kawa (chicken skin)
Kimo (chicken liver)
Grilled rice ball.
Toriwasa (seared, raw chicken) with a sour plum paste and ginger. When I first saw raw chicken on the menu in Japan I was unsure as to whether or not I should eat it but the uncertainty didn't last wrong. It's on all the yakitori menus, it's a popular dish so clearly there's something good going on here. Sure enough, it was as good as everything else we ate during the night.
When it was time to leave, the staff apologised about not being able to seat us the previous night (this wasn't the first time they had apologised) which of course was not an issue at all. As a token of gratitude, they even gave us a small bottle of sake to take home for free.
Excellent food, excellent service and highly recommended.
Yakitori Hitomi
96 Ōkikuchō
Sakyō-ku, Kyōto-shi
Sumibi Torito
This place was another great yakitori spot. It was very popular and the food was very good. Not quite as good as Yakitori Hitomi but still well worth a visit.
Par-boiled chicken breast strips, mixed vegetables and 3 sauces – soy, sour plum, mayonnaise.
Kokoro (chicken heart) ended up being one of my favourite yakitori items in Japan. Such great texture and flavour.
Chicken breast with melted cheese.
Fried Kappa Nankotsu (chicken breast cartilage) with Kewpie mayonnaise.
Grilled rice balls wrapped in seaweek. One with sour plum and the other with bonito flakes.
Chicken wings with boiled quail eggs.
Mature kawa (chicken skin). The Japanese don't mess about when it comes to chicken and quite often a menu item will specify the breed of chicken and whether it's young or mature as this has an effect on flavour.
Tsukune (chicken meatballs) with raw egg. Raw is is a common item at yakitori restaurants and is used to dip the main items into.
Sumibi Torito
1F Kamihara Building
9 Higashimarutachō
Sakyō-ku, Kyōto-shi
Teppan Dai
Teppan Dai was another chance discovery that resulted in a great night. It was located on a residential backstreet near our hotel and was very simple with a few locals inside. Daisuke, the owner and chef spoke (despite his insistence that his English wasn't very good) excellent English and cooked up some really tasty food.
Daiskue was a really nice guy and we ate too much, drunk too much and had a very long conversation with him, learning a lot about Japan's food culture and current trends amongst other things. It felt like a real local's kind of spot and I'm very glad that we found it.
A word of advice if you visit though, Teppan Dai is quite an unassuming building but you can tell that it's a restaurant from the outside. That place just up from Teppan Dai with the neon sign and entrance that looks like it's a restaurant? That's a bath house that may or may not have naked people walking around when you nervously slide open the door wondering "is this a restaurant?"
To start we had squid tentacles.
Chicken sashimi. Generally the raw chicken is either served completely raw of par boiled.
Grilled pork with spring onions and ponzu.
Chicken wing tips.
Rice ball in sour soup with konbu.
Teppan Dai
36-3 Hōrinji Monzenchō
Sakyō-ku, Kyōto-shi
Rokkaku
Yet another chance discovery on this trip was Rokkaku, named after the nearby Rokkaku temple. It's not a fancy spot by any means and there's nothing that caters to English speakers in the slightest, not even pictures.
My wife and I were hungry, and had been walking around for a while and were keen to eat. "Why not?" we thought as we decided to stay and order by pointing at various lines of Kanji on the menu. "Number 8? Why not?" "Shall we order the middle characters under number 4? Sure!".
The risk paid off, as it turns out Rokkaku specialises in wagyu beef, and we were treated to various cuts and grades of simple, tasty wagyu beef that we cooked ourselves on our table's inbuilt grill. Simple and tasty.
The highest grade of wagyu beef on the menu. It was full of flavour and melted in my mouth. Divine.
Steak tartare with raw egg.
A different, lower grade wagyu. Not as good as the highest grade but still excellent.
Finally, something that I wasn't a big fan of during my trip – beef stomach which had an excellent flavour due to the sauce but a far too chewy texture.
Rokkaku
608 Manjūyachō
Nakagyō-ku, Kyōto-shi
Nishiki Market
Nishiki Market opened in 1615 as a wholesale fish market and has expanded considerably over the years. Today, it's home to over 130 retailers selling a wide variety of food and food related objects. The focus of the market is retail rather than wholesale.
Most of the retailers have a particular speciality that they focus on and it's one of the best places in the city to find regional foods and seasonal foods that can't be found outside of Kyoto. The shop in the photo below for example, only sells matcha warabimochi – jelly-like cubes of bracken starch covered in matcha powder.
This place sold Japanese herbs and chilli powder. I bought some perilla which is kind of like a cross between basil and Szechwan pepper. I'd never heard of it before visiting Japan but it's very popular and has a distinctive taste.
This shop specialised in pickled and fermented items. There was no shortage of samples to try at this, and several other stores in the market.
This shop was all about unagi (freshwater eel), which was barbecued and served with kabayaki sauce and anago (saltwater eel) which is cooked as tempura.
My wife and I got some to try and it was really good. It was great to be able to stand in this little side section of the store and watch the staff go about their jobs – preparing and cooking the eel. We also tried the anago tempura but we ate it before realising I hadn't taken a photo!
For lunch, this sushi place was excellent and the plate we ordered really hit the spot.
We ordered the Kansai style "special" sushi. Clam, white fish, tuna, squid, salmon, prawn, uni, eel.
Some miso soup which, it turns out, also varies quite a bit by region.
These tako tomago might look freaky but if you visit Nishiki Market I highly recommend them. They are simply baby octopus stuffed with a medium boiled quail egg, cooked in a sweet red sauce. Delicious.
Nishiki Market
Nishikikoji Dori (between Teramachi & Takakura)
Nakagyō-ku, Kyōto-shi
Desserts
Nakamura Tokichi
Nakamura Tokichi has been around since 1854, and in that time has built up a cult following for its high quality matcha powder and exquisite green teas. In more recent years, it has become even more popular with Japanese people of all ages due to the wide variety of matcha sweets it sells. I visited the branch at Kyoto JR station and found myself walking towards the end of a line which was snaking around to the side of the store. About half an hour later I was seated inside and faced with a tough choice – everything on the menu looked amazing.
When I returned in autumn I made sure I was there when it opened at 10am to avoid the queue!
I decided to go with one of the dessert sets. It came with matcha jelly, matcha ice cream, azuki paste and sweet chestnut. Everything was delicious, and the ice cream was amazingly creamy.
This came with the set I ordered and was a bitter matcha soup with two halva-like matcha sweets to dip in it.
My wife ordered one of the famous matcha parfaits.  Cream, cake, some unknown crunchy stuff, jelly, mousse and azuki (red bean). It was, unsurprisingly, delicious also. It came with some green tea on the side.
Returning in the autumn, I tried the seasonal parfait which included a few different things including chestnuts and a spiced cake. It was excellent, but the original matcha one is better.
As well as the cafe, Nakamura Tokichi has a store section with a variety of items for sale. We bought some green teas and 2 different grades of matcha powder to take home with us.
Nakamura Tokichi
3F JR Kyoto Isetan
Kyoto Station
Shimogyō-ku, Kyōto-shi
The original store is located at:
Ichiban-10 Uji
Uji-shi, Kyōto-fu
Kagizen Yoshifusa
Kagizen Yoshifusa is another Kyoto institution – it's one of the oldest shops specialising in Kyogashi (Kyoto sweets), having been founded in the mid Edo period from at least 1726.
The Gion store is the flagship and contains a cafe. I wanted to visit here specifically to try the signature item, Kuzukiri – slippery, translucent arrowroot noodles bathed in ice water served with a syrup made from  water, Kudzu (vine), and sweet molasses. Well worth trying as I've never encountered anything like it elsewhere.
Kagizen Yoshifusa
264 Gionmachi Kitagawa
Higashiyama-ku, Kyōto-shi
Tsujiri Honten
Tsujiri Honten specialises in matcha desserts and green tea. I visited the main branch in Gion and, after about a 30 minute wait was ushered to a table on the top level (a shop is located on the ground floor and eating areas on floors 1 and 2).
The matcha parfait was very tasty, but not quite as good as the one from Nakamura Tokichi.
Tsujiri Honten's autumn seasonal parfait was actually tastier than their matcha one. The cake was especially tasty.
The shop has a variety of green teas and sweets/desserts to purchase.
Tsujiri Honten
573-3 Gionmachi Minamigawa
Higashiyama-ku, Kyōto-shi
Other Recommendations
There was one other dessert place on my list that I didn't get the time to try that is highly regarded. Ryokujuan Shimizu specialises in konpei-to, a sweet (flavours are seasonal) that can trace its origins to the time of Portuguese missionaries in 1546.
Ryokujuan Shimizu
38-2 Yoshida Izumiden-cho
Sakyo-ku, Kyōto-shi
Ramen
Ramen is a dish that consists of wheat noodles in a soy and/or miso flavoured meat or fish stock soup along with a variety of toppings such as sliced pork, sliced kamaboko (fish cake roll), nori (dried seaweed), spring onions, and a poached egg.
It's a popular meal all over Japan and each region has its own version, with the broth being what differs the most. The 4 main types of ramen are:
Shio (salt) has a pale, clear broth that is seasoned with a lot of salt, with chicken, vegetables, fish and seaweed being most commonly used. Noodles of varying thickness are generally used.
Tonkotsu (pork bone) has a thick, cloudy broth. Pork bones are left to simmer for several hours which allows the fat and collagen to break down and give the broth a strong pork flavour and a silky texture. Thin noodles are used.

Shōyu (soy sauce) has a clear brown vegetable and/or chicken based broth that is heavily flavoured with soy sauce. Generally curly noodles or thin noodles are used.

Miso contains, unsurprisingly lots of miso which is added to an oily chicken/fish broth (and sometimes pork bones) which gives it a thick consistency and nutty, tangy flavour. Thick, curly noodles are typically used.
Along with the above 4 types of ramen, many cooks mix and match flavours and techniques to make their own versions of the dish. The typical "Kyoto-style" ramen places an emphasis on chicken bone in the stock, with medium thickness noodles most commonly used.
Daiichi Asahi
This place is very popular. It's only closed for 4 hours each day and has a reputation for having an almost constant line out the front. We went at about 10am, to avoid the lunch time rush and there was a line. By the time we got inside the line had more than doubled.
The line isn't just a result of hype though. The food here is very well priced and the ramen broth is delicious. My advice is to visit outside of peak lunch and dinner hours and, unless you have a mammoth appetite, to order the small bowl. I was starving and ordered the regular size – it was huge and despite tasting amazing I wasn't able to finish it.
The famous ramen that most people were ordering.
…and some gyoza for good measure. Both excellent.
Daiichi Asahi
845 Mukaihata-cho, Higashi Shiokoji-cho
Shimogyō-ku, Kyōto-shi
Department Stores
Department stores in Japan are a cut above what you tend to find elsewhere in the world. Sure, there are many cities that have high end department stores with nice food sections however in Japan the sheer selection is outstanding. Along with the highest quality fresh produce and ready-to-eat meals that you could imagine, these department store food halls are where you can find concessions from stores that have set up shop from all over the world. They even have their own name, "depachika". The product ranges are extensive and everything is beautifully presented.
I didn't spend too much time in the depachika in Kyoto as most of the major stores can be found in each major city in Japan. You can read what I had to say about them in my Tokyo and Osaka food guides as the same applies to Kyoto.
Assorted Delights
Cake/Sweet Shops
An assortment of cake and sweet shops can be found all over Japan and usually specialise in 1 or 2 kinds of dessert. This place, for example, specialised in a dessert that was kind of like a flat, triangular, less sticky mochi.
Bakeries
These small bakeries are found all over Japan, especially in train stations and shopping centres. A great option for a quick and affordable sweet or savoury snack.
Small Grocery Stores
Small grocery stores are common throughout Japanese cities. There's not too much to say about them, other than to assure you you'll never be short of somewhere to get a snack if you're hungry.
Fine Dining
Other Recommendations
One final recommendation, and that relates to fine dining. I didn't eat at any fine dining or Michelin Starred restaurants in Kyoto, however the one place that was on my list as being consistently recommended and looking amazing was 2 Michelin Starred Roan Kikunoi which looks like it takes food and everything else about the meal experience to another level.
Roan Kikunoi
18 Saito-cho, Shijo-sagaru, Kiyamachi-dori
Shimogyō-ku, Kyōto-shi
I hope you've enjoyed reading through my Kyoto Food Guide and would love to hear about any Kyoto food recommendations you might have in the comments below. If you're looking for tips on where and what to eat in Tokyo and Osaka, check out my Tokyo Food Guide and Osaka Food Guide.