AUSTIN | To a lot of people outside of Texas, it's not the first US state that comes to mind when thinking about craft beer. The fact is though, that Texas is home to some amazing breweries doing things that are getting noticed both throughout the US, and the world (for example Jester King). In Austin there are a lot of great places to enjoy local craft beers, and great beers from further abroad. Even places that don't advertise themselves as craft beer venues can be home to great craft beer lists. Everyone has their favourite spots, as do we – in this list we've tried to give you a good overview of some of the best places for craft beer in Austin. What's your favourite craft beer venue in Austin? What is your favourite Texas brewery? Let us know in the comments selection below.
The Austin Beer Garden Brewing Company
The Austin Beer Garden Brewing Company is housed in a huge tin shed that's been outfitted in a way that makes it very welcoming in line with ABGB's ethos to "strive to take beer's innate goodness and put it into action improving our neighborhood, city, and the lives of lots of folks".
Beer is split into size core range "always" beers and two to four "sometimes" seasonals and one-offs. The Big Mama Red, a hoppy red ale, is particular favourite of ours, while the Rocket 100, a "pre-prohibition style" pilsner is interesting and tasty. Keep an eye out for the fruited sour beers that pop up on the "sometimes" list from time-to-time. There's even a good, focused cider and wine list for those who aren't sold on the idea of beer.
Food, meanwhile, is quality. Everything on the menu, including many of the fantastic crispy base pizzas changes depending on what's good and seasonal.
The Austin Beer Garden Brewing Company
1305 W Oltorf Street
Austin
Texas 78704
United States
The Ginger Man
The Ginger Man is one of a few Ginger Man pubs around Texas and has been serving up beer to the people of Austin since 1994 (the original location is a block away). The focus has always been on good beer in a traditional pub space, complete with beer garden out the back and a dartboard.
Over the years, The Ginger Man has retained what makes the space special while upgrading what needs to be done to stay at the top of its game. It might look like an old pub, and retain the charm and coziness of an old pub, but the beer list at The Ginger Man is thoroughly modern, and features over 50 beers on tap from both the USA and around the world. If it's food you're after, there's a small menu featuring snacks, sandwiches and flat breads.
The Ginger Man
301 Lavaca Street
Austin
Texas 78701
United States
Growler USA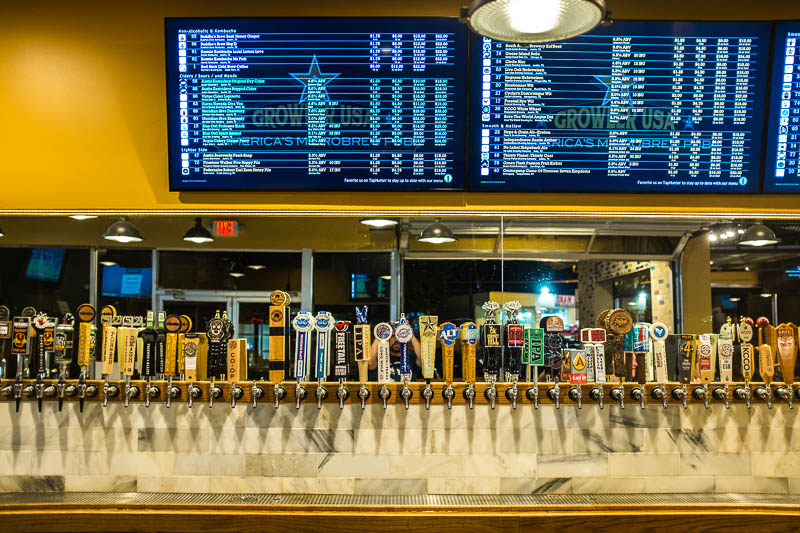 The Austin branch of craft beer chain Growler USA is located near the UT campus and features and impressive list of 100 craft beers on tap, all American, with a focus on Texas microbreweries.
Along with the familiar suspects, the folks at Growler USA are always on the lookout for harder to find, small batch brews, which means that whenever you visit you're always likely to find a few things you haven't seen elsewhere. For those with an appetite the food offering is simple, tasty pub food like tacos, bratwurst, sliders, and chicken wings.
Growler USA
609 W 29th Street
Austin
Texas 78705
United States
Austin Ale House
Austin Ale House is a casual bar that puts equal focus on craft beer and quality food. On the taps you'll find 38 mostly Texas craft beers along with several West Coast favourites like Ballast Point and Kona (one of the owners of Austin Ale House co-founded Kona Brewery).
The food focuses on American and Mexican influenced dishes using locally sourced produce that's organic where possible.
Austin Ale House
301 W 6th Street
Austin
Texas 78701
United States
Wright Bros Brew & Brew
Wright Bros Brew & Brew differs from many craft beer venues, and that difference can be seen in the name. The "brew and brew" refers to coffee and beer – Wright Bros specialises in serving up the best of both kinds of brew. Beer wise it's mostly local beer rotating across the 40 taps along with some beers from other states and abroad. Most styles are covered here, with the board listing beers according to colour and hoppiness, and you can often find special one-off brews too.
Tea, wine, cider, and a little bit of food is also offered and is more than an afterthought too.
Wright Bros Brew & Brew
500 San Marcos Street
Austin
Texas 78702
United States
Banger's Sausage House & Beer Garden
The appeal of Banger's Sausage House & Beer Garden can be summarised very easily – it offers over 100 craft beers on tap and 30 tasty house made sausages which can be enjoyed in one of Austin's largest beer gardens. The tap list contains a very good selection of local beers along with beers from elsewhere in the USA and a few international brews. Whether its core range favourites or seasonal and one-off beers you're after, you'll be sure to find something you want on the taps. If not, there's a decent bottle list which expands the selection even further. Beers are broken down by flavour profile, and then sub-categories within those profiles.
Banger's Sausage House & Beer Garden
79 Rainey Street
Austin
Texas 78701
United States
Easy Tiger
Easy Tiger is a bakery/cafe/bar/beer garden that's open from the early hours of the morning until… the early hours of the morning. Upstairs is the highly lauded bakery, while downstairs is a Paris-meets-New-York-City basement space that opens out to a surprisingly spacious beer garden. There are 33 craft beers on tap along with a bottled range featuring brews from local breweries like Jester King, Real Ale, Austin Beerworks and Live Oak Brewing plus breweries outside of Texas.
Easy Tiger
709 E 6th Street
Austin
Texas 78701
United States
Live Oak Brewing Company
Live Oak Brewing Company is located in Del Valle, just across the US 71 from Austin Bergstrom International Airport and feels a world away from downtown, with a peaceful and relaxed setting whether you choose to sit inside the 100 seat taproom or under the shade of the large live oak trees outside by the Colorado River.
There are ten fresh beers pouring in the taproom, consisting of all-year beers to a selection of seasonal and limited offerings. The beers here are influenced by old-world Central European styles, and are brewed using mash, open fermentation, and secondary lagering proces common in Central Europe.
Live Oak Brewing Company
1615 Crozier Lane
Del Valle
Texas 78617
United States
Hopfields
Walk into Hopfields and it's immediately apparent that this isn't your typical craft beer spot. It's more of a casual lounge/bar, with as many people sipping wine as there are drinking beer. There are 42 beers on tap, featuring brews from across the USA and further abroad. All of the main styles are reflected on the taps, and there's a small bottle list should you wish to explore that.
The food here is casual French – fitting for a bar, but more akin to what you'd find in one of the new casual eateries that are popping up across Paris. Definitely a cut above your usual bar fare.
Hopfields
3110 Guadalupe Street
Austin
Texas 78705
United States
The Grackle
The Grackle is a bar in East Austin that's the perfect example of a place that's not a craft beer bar as such, but will still give you a nice selection of crafty brews. Yes there are places with larger selections on this list, but there are a lot of mostly local craft beers being poured from the brass wall mounted taps. If there's nothing on the taps that tickles your fancy, ask about the bottles – if you're nice about it you might even get shown some of the rare bottles that are hidden away and not advertised on the regular menu.
There's no food served at The Grackle but there's always a few food trucks parked out the front to ensure that anyone looking for a bite to eat has some quality food options to choose from.
The Grackle
1700 E 6th Street
Austin
Texas 78702
United States
Waller Creek Pub House
Waller Creek Pub House is a 1500 square foot venue with a large outdoor patio that offers fans of craft beer 30 rotating brews across its taps. The tap list leans towards the hoppy end of the scale, but there's something for fans of all styles of beer on offer, coming from craft breweries across the country. If you're hungry there's a menu of 'elevated' pub food which hits the spot.
Waller Creek Pub House
603 Sabine Street
Austin
Texas 78701
United States
Zilker Brewing Co
Zilker Brewing Co is a community focused brewery opened with the aim of being a proper neighbourhood brewery and taproom that locals could enjoy, and when you walk into the taproom it certainly feels like a laid back local's venue. There's a bar, a few communal tables and some stools that fill part of the space but the majority of the garage/brewery is filled with brewing equipment and barrels.
The beer leans towards Belgian and American styles and focuses on light, malty, and fruity beers. All the core beers use Trappist ale yeast and tend to be below 6% ABV. Perfect beers to be introduced to a particular style and very sessionable. Zilker themselves don't serve any food, but a rotating selection of food trucks combined with an open policy to bringing your own food from home means it's easy to satisfy your hunger.
Zilker Brewing Co
1701 E 6th Street
Austin
Texas 78702
United States
Hops & Grain
Hops & Grain is a brewery in East Austin with a focus on quality beer and sustainability. There are four core range beers on offer, along with any number of one-off and seasonal brews, including some really experimental flavours that change on a weekly basis. $10.00 gets you six drink tickets and a glass to take home, which is a good way to try a few things that tickle your fancy.
A part of the offering at Hops & Grain that's a bit different than most brewery taprooms is that they are open from 10:00am every day of the week and serve coffee using beans from local roasters Flat Track and Houndstooth Coffee's Tweed Coffee Roasters from Dallas.
Hops & Grain
507 Calles Street
Austin
Texas 78702
United States
Craft Pride
Craft Pride is a great bar on Rainey Street that offers exclusively Texas beers across its 54 taps and 2 firkins (cask kegs). Almost every style of beer imaginable is on the taps, and there are lots of interesting seasonal and one-off brews for those looking for something a bit different. If there's nothing on the taps that tickles your fancy, of if you're looking for something rare that you might not have seen elsewhere, the excellent bottle list, which features Texas, American, and international beers numbers over 100 and can be found in the back room which doubles as a bottle shop.
Craft Pride
61 Rainey Street
Austin
Texas 78701
United States
Blue Owl Brewing
Blue Owl Brewing opened in 2015 with a focus on beers that are brewed using the sour-mash method. In fact, Blue Owl is the only exclusively sour-mash brewery in the United States.
The first thing that's apparent when drinking sour beers that have been brewed this way is that they're less tart than many of the sours on the market. While there are some challenging seasonal and one-off brews on offer at the brewery, the core range of beers are surprisingly approachable, and a good entry point for someone looking to discover the world of sour beers. The taproom also offer small batch barrel aged sours and brewery exclusive beers you won't find anywhere else. If you go for a tasting paddle, you'll even get a souvenir glass to keep.
Blue Owl Brewing
2400 E Cesar Chavez Street
Austin
Texas 78702
United States